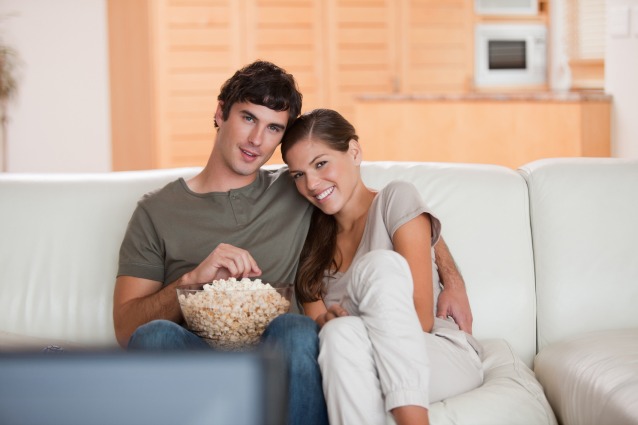 100+ Great Date Night Ideas
Planning a fun date night isn't always as easy as it sounds–especially when you feel like you've been there, done that for just about every outing in your town. The Nest has started you off with 6 dates under $15. Follow the link at the end of the post for even more ideas!
1. Fiesta Night

Pretend you're south of the border and create your own happy hour.
Margarita mix: $2
Tequila: $8
Chips and salsa: $5
Total: $15
2. Roman Holiday
Sometimes the best dates are the most relaxed ones. Mangia!
2 slices of pizza: $5
1 bottle of Three-Buck Chuck: $3
Ice cream for 2: $6
Total: $14
3. Fashion Show
She loves Project Runway, he loves Heidi Klum. Combine your passion for fashion — then take it all off at home.
Trying on ridiculous outfits at a vintage store: free
Disposable camera: $6
Total: $6
4. Movie Mania
Have the gang over for a BYOB movie night — but save the make out session for later.
Renting Old School: $5
Booze brought by friends: free
Going streaking through the quad: optional
Popcorn for 20: $10
Total: $15
5. People-Watching
Pick a beautiful day to chill at the park and take in the beauty (and freaks!) of nature.
2 grande lattes: $7
2 croissants: $4
Bench: free
Total: $11

6. Bubbles and Bubbly
Hot tubs are overrated! There's fun to be had in your very own bathroom.
Bath salts: $5
Bottle of prosecco: $10
Getting clean and being dirty at the same time: priceless
Total: $15
For more ideas, including 20 dates under $20, 10 ways to surprise your spouse, 10 hot, hot, hot date ideas plus much more, check out more great date night ideas here.
Fawn Weaver is the USA Today and New York Times bestselling author of
Happy Wives Club: One Woman's Worldwide Search for the Secrets of a Great Marriage
, adopting the same name as the Club she founded in 2010. The Happy Wives Club community has grown to include more than 1 million women in over 110 countries around the world. She's an investor in real estate, tech sector and lifestyle brands. When she's not writing or working, she's happily doting over her husband of twelve years, Keith (and sometimes manages to do all three simultaneously).
Latest posts by Fawn Weaver (see all)
Related Posts
4
By
Annett DavisAnnett Davis
March 8, 2017
How to Make Date Nights Happen When You're Parents: Kid Swap!!
16
By
Fawn WeaverFawn Weaver
September 28, 2016
The Fun Dare: 12 Dates in 12 Days
2
By
Morgan SimsMorgan Sims
January 18, 2016
9 Date Ideas That Won't Break the Bank
Recent Posts
By
Fawn Weaver
November 12, 2017
Top 5 Regrets From the Dying: An Inspirational Article For Us All
By
Fawn Weaver
October 19, 2017
How to Protect Your Marriage During Challenging Times
By
Fawn Weaver
September 16, 2017
5 Unique Ways to Make Your Man Feel Special in 5 Minutes or Less