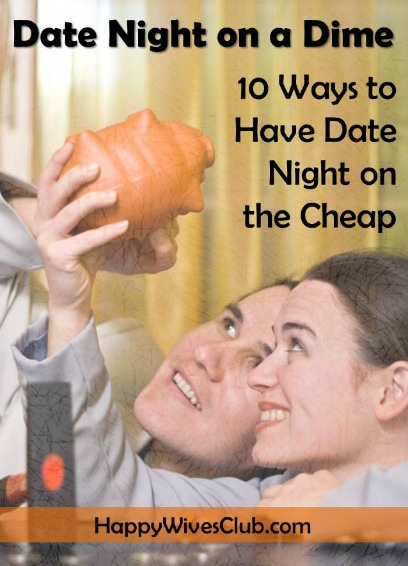 Date Night on a Dime: 10 Ways to Have Date Night on the Cheap!
Finances can often be a huge hindrance for couples wanting to have a consistent date night. The desire may be there, but that doesn't mean it is always do-able financially!
I don't work outside of the home, and we have 2 young kids, so my husband and I have definitely learned to get creative when it comes to making date night work for us! Today, I'm sharing some of our secrets!!!
Here are my top 10 ways to have date night on the cheap!
Share an entree.

Skip the sodas/alcohol & order water.

Dress up like you are going to a 5 star restaurant, but eat at a local deli instead.

Stay home and play some board games. Go on a romantic nature walk.

Add "date night" into your monthly budget. Save a few dollars each week until you have enough for a fancy dinner date.

Swap free babysitting and date night weekends with another couple.

Have dinner out but rent a movie instead of going to a theatre.

Go to a movie earlier in the day to get cheaper tickets.
*Bonus tip* – If finding a babysitter is an issue, try ordering take out and having a date night at home after the kids are in bed. You could dress up, dim the lights and have a romantic candle lit dinner in your own dining room!
Paula Rollo: Paula & her hubby have been happily married for 4 years. They decided to tie the knot after knowing each other for just 35 days! They now have 2 rambunctious kiddos known as Little Man (2) and The Princess (7 mos). The family resides in Texas in a small but lively apartment. Paula and her hubby love to play board games, take long walks with the kids and they both LOVE the Texas heat! Paula also has a passion for writing. Her compositions have been featured many places around the web, including her own blog
Beauty Through Imperfection
where she writes about motherhood and strives to be an encourager through her writing.
Latest posts by Paula Rollo (see all)
Related Posts
4
By
Annett DavisAnnett Davis
March 8, 2017
How to Make Date Nights Happen When You're Parents: Kid Swap!!
16
By
Fawn WeaverFawn Weaver
September 28, 2016
The Fun Dare: 12 Dates in 12 Days
2
By
Morgan SimsMorgan Sims
January 18, 2016
9 Date Ideas That Won't Break the Bank
Recent Posts
By
Fawn Weaver
November 12, 2017
Top 5 Regrets From the Dying: An Inspirational Article For Us All
By
Fawn Weaver
October 19, 2017
How to Protect Your Marriage During Challenging Times
By
Fawn Weaver
September 16, 2017
5 Unique Ways to Make Your Man Feel Special in 5 Minutes or Less