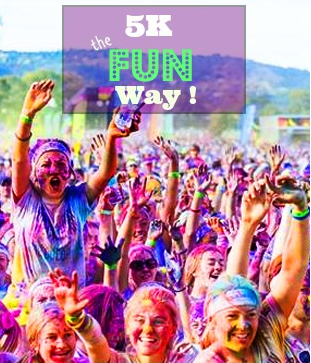 5K the Fun Way!
Have you ever imagined running a 5K and thought there is no way you could do it?  Does the thought of participating in a 5K scare you to death?  Ever think that those races are all the same and you want to stop participating in them? Or, are you like me, you HATE to run, and you'd rather eat a plate of worms than run anywhere, at anytime, for any reason?
If you said yes to any of the above questions I've got great news for you- 5K's can be FUN!
There's a popular trend of new 5K's that got even me excited about participating in one. (Which is a miracle, just ask my husband.)  No more straight lines, or jogging around a boring old park in circles.  These events are now exciting, they have obstacles, awesome themes, and get this they are FUN! 
*Disclaimer- No I haven't done one yet, but now that they are this cool, I'm planning on it!
I've scoured the web and found five 5K's that you must check out. They all have their own unique twist. These events are all over, so check online for one near you.
Annett's Top Five Picks To 5K the Fun Way!!!
Who says running and working out has to be boring? With fun adventure 5K's like these you will not only get more physically fit, but you will have loads of fun!  These aren't the only fun 5K's around, just search the web, new ones are starting every year. Try one out with your husband!
Remember the couple that's active together…stays together.
Question:  Which one of these 5K's would YOU like to try?
image source: thecolorrun.com
Annett Davis is an Olympian in Beach Volleyball. She loves great food and helping people get healthy over at
GetFitWithAnnett.com
. Her favorite topics are marriage and anything fitness related. Being married to her soul mate, Life Coach and author Byron Davis for 16 wonderful years, Annett loves being a homeschooling mom of 2. She blogs over at
FitMomsFitKidsClub.com
, and inspires kids to grandmas to get in shape for life in her private accountability groups.
Latest posts by Annett Davis (see all)
Related Posts
Recent Posts
By
Fawn Weaver
November 12, 2017
Top 5 Regrets From the Dying: An Inspirational Article For Us All
By
Fawn Weaver
October 19, 2017
How to Protect Your Marriage During Challenging Times
By
Fawn Weaver
September 16, 2017
5 Unique Ways to Make Your Man Feel Special in 5 Minutes or Less