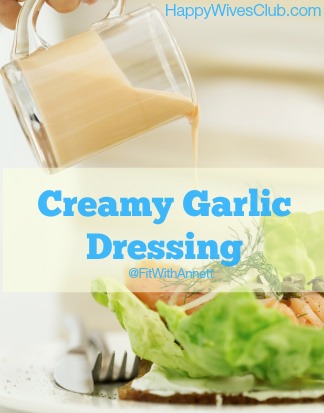 Creamy Garlic Salad Dressing
Most commercial dressings are full of unwanted sugar, salt, artificial colors, flavors, and other things your body doesn't need.
This dressing is void of all of the yuck, and brings on the yum.
If you are looking to clean up your eating, and go as close to nature as possible, this simple recipe is for you.
Creamy Garlic Salad Dressing
Ingredients
1/2 cup extra virgin olive oil
1/4 cup apple cider vinegar
3-4 cloves of garlic
3 TBS fresh lemon juice
1 tsp sea salt
1/2 tsp Dijon mustard
1 TBS raw honey (or pure maple syrup)
1/2 bunch parsley
Directions
Place all of the ingredients in a blender.  Blend until smooth. If you need more parsley or garlic, add more to taste and blend again until smooth. Refrigerate dressing if not using immediately. It's alright if the dressing solidifies when cold, it's natural. Just take it out of the refrigerator and keep at room temperature for 30 minutes. Stir before serving. Enjoy!
Annett Davis is an Olympian in Beach Volleyball. She loves great food and helping people get healthy over at
GetFitWithAnnett.com
. Her favorite topics are marriage and anything fitness related. Being married to her soul mate, Life Coach and author Byron Davis for 16 wonderful years, Annett loves being a homeschooling mom of 2. She blogs over at
FitMomsFitKidsClub.com
, and inspires kids to grandmas to get in shape for life in her private accountability groups.
Latest posts by Annett Davis (see all)
Related Posts
2
By
Aunt LaLaAunt LaLa
April 24, 2014
Easy Chicken Stir Fry
0
By
adminadmin
April 10, 2014
Tropical Green Smoothie
2
By
Annett DavisAnnett Davis
March 20, 2014
Quinoa Risotto
Recent Posts
By
Fawn Weaver
November 12, 2017
Top 5 Regrets From the Dying: An Inspirational Article For Us All
By
Fawn Weaver
October 19, 2017
How to Protect Your Marriage During Challenging Times
By
Fawn Weaver
September 16, 2017
5 Unique Ways to Make Your Man Feel Special in 5 Minutes or Less