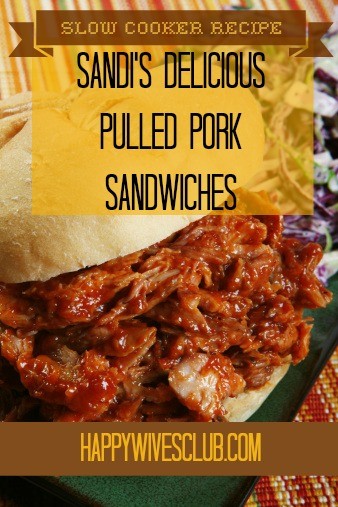 Sandi's Delicious Pulled Pork Sandwiches
Less than a year after we were married, my husband and I decided to move into a house with my sister, brother-in-law and their newborn baby.
We saw this as a way to spend time with some of our best friends, as well as a way to save money for the future.
One of the benefits of having roommates, and there were many, was sharing the cooking responsibilities.
Each couple would buy their own groceries, but we usually planned at least 2 nights a week when we would cook for everyone. It was a fun way to try out new recipes or to eat favorites that were usually made by the other couple.
One of our favorites was my sister's recipe for pulled pork sandwiches. Yum! I would like to say that it is fast, but since this is a slow cooker recipe it does take some time.
This is a good one to set up right before you go to work in the morning or before you start running your errands for the day.
Since we've moved out of that house (and out of the state!) this recipe still shows up on our menu at least once a month thanks to my sister!
Sandi's Delicious Pulled Pork Sandwiches
Ingredients:
1 to 1½ lbs Pork Tenderloin
1 tsp salt
1 tsp black pepper
1 ½ tsp cinnamon (optional, but trust me- it's good!)
Beef stock (I usually buy 32oz and use enough to cover the pork in the crockpot)
Your favorite BBQ sauce
Bread, buns or rolls (I recommend King's Hawaiian Sweet Rolls!)
Directions:
Cut off any excess fat from the pork tenderloin
Season pork with salt, pepper and cinnamon
Place pork in crockpot and add enough of the beef stock to cover the pork. If you don't have enough, at least cover half of the pork and turn it over halfway through cook time.
Cook covered on low for 8 hours
After pork has finished cooking, remove pork from crockpot and drain juices.
Pull pork – I normally put the pork in a 9×13 dish and use two forks, but that's just me. I've found it easier to remove from the crockpot, pull it apart and return it to keep it warm.
After pork has been pulled apart, add desired amount of BBQ sauce – coating evenly.
Add pork to your favorite bread or roll and eat up
Enjoy!
Nicole Glass is a full time administrative assistant and a full time wife. Happily married for five years, she enjoys spending time with her husband Aaron and their dog Parker in Northern Nevada. Nicole enjoys running (currently training for her first full marathon), cooking and writing. Her eclectic blog
Just Glass On The Outside
covers everything from distance running to meal planning for two!
Latest posts by Nicole Glass (see all)
Related Posts
Recent Posts
By
Fawn Weaver
November 12, 2017
Top 5 Regrets From the Dying: An Inspirational Article For Us All
By
Fawn Weaver
October 19, 2017
How to Protect Your Marriage During Challenging Times
By
Fawn Weaver
September 16, 2017
5 Unique Ways to Make Your Man Feel Special in 5 Minutes or Less