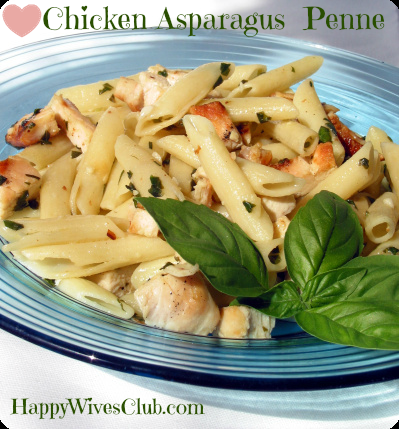 Chicken with Asparagus and Penne
You want a quick meal? How about 20 minutes using just 5 ingredients?  If so, this recipe is for you! This is one of our favorite go to meals because it is quick and easy. Cooking everything simultaneously cuts down on time since only three items need to be cooked, this is a breeze! Mix it up by using something other than asparagus.  I have tried this with various veggies, and enjoyed it with broccoli, as well as cauliflower, but my husband prefers asparagus.  So here we are.  Also, you can omit the cheese if you'd like, which would negate the need to broil this. Since everything is cooked beforehand, you can serve it up right away!
Chicken with Asparagus and Penne
Ingredients:
1 pound of Asparagus
12 ounces of Penne Pasta
1 pound of Chicken breast, cubed
½ cup of Parmesan Cheese, shredded
¼ cup Olive Oil
Instructions:
Bring a medium pot of water to boil. Add penne pasta.
While water is boiling, heat up a medium sized skillet with cooking spray and begin cooking cubed chicken.
Steam asparagus. You can do this a variety of ways, so use your favorite. Personally, I place a colander over my pot of boiling water and place the asparagus inside and cover it. Yes, it takes a little bit of skill to stir the pasta, but they cook at almost the exact same amount of time. You can use the microwave if you are more comfortable, it will cook quicker so that is an advantage.
Place steamed asparagus on the bottom of a 9×13 baking dish.
Drain pasta and pour on top of asparagus. Add chicken over pasta.
Drizzle olive oil over top and stir a little to evenly coat pasta and chicken.
Add the Parmesan cheese on top of everything.
Broil for 5 minutes or until cheese browns a little bit.
Enjoy!
Nicole Glass for Glass on the Outside
Nicole Glass is a full time administrative assistant and a full time wife. Happily married for five years, she enjoys spending time with her husband Aaron and their dog Parker in Northern Nevada. Nicole enjoys running (currently training for her first full marathon), cooking and writing. Her eclectic blog
Just Glass On The Outside
covers everything from distance running to meal planning for two!
Latest posts by Nicole Glass (see all)
Related Posts
2
By
Aunt LaLaAunt LaLa
April 24, 2014
Easy Chicken Stir Fry
0
By
kellykelly
November 24, 2013
Lemony Garlic Green Beans
8
By
Katie BaldridgeKatie Baldridge
September 29, 2013
Blueberry Vanilla Muffins {gluten-free}
Recent Posts
By
Fawn Weaver
November 12, 2017
Top 5 Regrets From the Dying: An Inspirational Article For Us All
By
Fawn Weaver
October 19, 2017
How to Protect Your Marriage During Challenging Times
By
Fawn Weaver
September 16, 2017
5 Unique Ways to Make Your Man Feel Special in 5 Minutes or Less