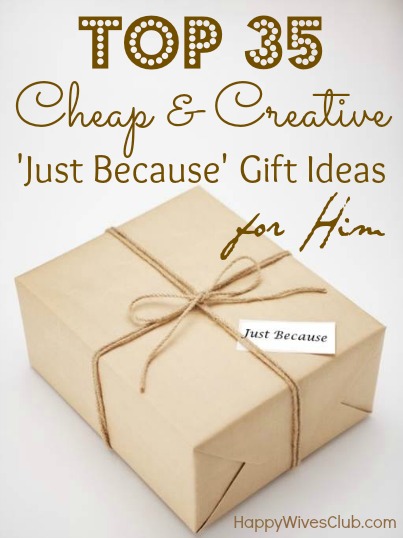 Top 35 Cheap & Creative 'Just Because' Gift Ideas For Him
What better day to give your husband an I love you gift than today?  Don't wait for his birthday or anniversary; he'll be expecting something then.  
Surprise him with a 'just because' gift today and absolutely blow his mind! 
Last week, I asked our community for their most creative and inexpensive 'just because' gift ideas and so many responded.
I then scoured the web for DIY examples (I wasn't bit by the creativity bug so I need step-by-step instructions) and included several of those links below.
So here you go!  Our top 35 cheap & creative 'just because' gift ideas for him:
Love Coupons: Love coupons/ vouchers/certificate was the 'just because' gift suggested by the most people, including Maria Jade Wong, who recommended vouchers for massages, cooking his favorite meal, etc.

Once in a Blue Moon. "Pick up a six pack of Blue Moon beer and put a cute tag on it…I love you to the moon and back. Or…a love like ours comes along once in a blue moon." – Stephanie Warner Beal

Bacon Bouquet: Say what?!  This idea, submitted by Tanya Pratt, sounds like it was ripped from the script of Duck Dynasty.  But I must admit I know a lot of men who would give up any amount of flowers for another slice of bacon.

Break Upon Emergency.  "On eBay, you can get key chains that have a hollow pod on the bottom that you can unscrew; they're designed to hold emergency cash.  I bought one for my husband and wrote a love note on a strip of paper, rolled it up and stored it inside." – Danielle Lake Langley

Work Survival Kit. "I once packed a 'survival' kit for work: his favorite coffee, homemade cookies and a pocket joke book.  Then for lunch I ordered pizza for him and his crew.  And when he got home I had a picnic set up in the living room…he loved it (and so did I)." – Carmen Bisschoff

Turn Old Into New:  Love this fabulous idea of turning an old book into a fantastic 'just because' gift (make sure to look at the last pic on the page to see how amazing the finished product looks).

List of Love. "Create a list of 100 things you love about your husband, print it out and frame it. The list can be loving, flirty, and show your admiration for him. Read it out loud to him to make it extra special." – Mallory Ellis

Give Him a Piece of Scotland & Make Him a Lord…literally:  When Andrea Cummings Geb Pälmer recommended this I had to reply to ask her if this is even possible.  Apparently, it is!  This is, by far, the most expensive gift idea on this list but how could I not include it?!  You can buy your hubby the title of Lord for £27 by buying 1 sq ft of land in Scotland.  No, really.

Make a Shadow Box.  "I made a shadow box for my hubby (get the shadow box from any arts & crafts store).  Blew up one of his favorite pictures at Walgreens and used it for the background.  I also used seashells from our trip to Galveston." – Kathy Cervantes

Exploding Love Box: By far, one of the most creative and fun ideas we've seen out there.  And it's free.

For the Meat Lover. "My husband loves meat.  For a special date I used a heart-shaped cookie cutter on deli cheeses and salami.  Corny as it sounds he loved my deli tray.  We ate it with crackers and wine on a late night picnic in the backyard." – Jessica Schuett

Giant Candy Love Letter: "When we were dating I made a giant love letter.  I wrote the letter on a poster board and substituted different words with candy bars.  For example: 'Sometimes you make me snicker' (insert candy bar for snicker).  He loved reading and eating it!" – Laura Britt Cherrito

Candlelight is Always Right. "I made a surprise candlelight dinner for my husband a couple of weeks ago. I had everything set up & ready right after giving the kids dinner & putting them to bed early. I even made a music playlist with songs that he & I had dedicated to each other. It was nice. He loved it!" – Carol Bova

Best Husband Certificate: "Make him a "best husband" certificate.  When he asks you why, just say 'because you are'.  Frame it and hang it in your bedroom." – Anele Ngwekazi

The Sneaky Bird Gets the Worm. "My 'just because' gift is always sneaking into his car before he wakes up and leaving a bar of his favorite chocolate with a love letter on his dashboard to remind him how much I love him.  It always puts a smile on his face driving to work and a great way to start his day." – Justina Green

Message in a Balloon: Forget sending a message in a bottle.  This is SO much cooler than that!

Card for No Reason. "When I come across beautiful cards I pick them up and send him one when he least expects it. Put a post it note in his shirt pocket that says I'm proud of you." – Renee Selman

Passport to Love:  What a clever gift!  Use this DIY crafts project to take your husband around the world for free.

Deal Worth Waiting For. "I put aside some great family pictures and photos of the kids along with a letter from me and thoughts from the kids.  Then I waited (not long) for a photo book special and voila a touching memory book for him!  There are always free or cheap photo book offers and you can have text and photos." – Ginnie Macdonald Chapman

Hot Tamale! "My hubby LOVES Hot Tamales.  If yours does too, here's an idea.  Buy a bag or box of Hot Tamales or his favorite cinnamon candy and print out a cute note that says, "These are the perfect candy for you…Because you're both so sweet and HOT!!" – Becky Hall Bittle

52 Things I Love About You: "For Valentine's Day two years back I took index cards and wrote 52 things/ reason why I love my husband and then I glued them to a deck of cards." – Chelsey Peters

A Special Homemade Lunch. "I make my husband's lunch every day. Today, I put a note in a zip lock baggie that said: 'You bring color into my life.'  I added a handful of skittles in the bag with the note." – Michelle Anderson-Galvan

Floating Memories: "Balloon bouquet with balloons with hearts and that say I love you. My husband loves those!" – Jamie Pruitt

One of a Kind Gift. "Write him a poem. It comes from the heart & will be one of a kind!!!" – Lindsey Brown-Jaquez

Treasure Chest of Love. "Candy works well-especially with a cute note attached. For instance: A bag or container (I used a small wooden treasure chest from the hobby shop) of Hershey's Treasures. They look like miniature gold bricks. I put a note saying: Thanks for being such a treasure!"  - Stephanie Scevers

'Why I Love You' Jar: "I bought a cute jar with a lid, decorated it and cut out strips of colored paper and wrote on each piece all the things I love about him. It was so heartfelt and he loved it! Took more time than money." – Susanne Estep  (You can also do it with stickers on candy)

I Love This Bar. "I like to learn a favorite song of his and surprise him by singing it at karaoke for him and to him in front of a bunch of people at a local bar…who cares if you can't sing great? He will beam with smiles!" – Angela Lopez

Year of Dates in a Basket: This nifty idea wasn't one that was submitted but when I stumbled across it online I knew it had to be included!  Create 12 dates, arrange them in advance, label the envelopes, and let your hubby open one each month.

Why Buy What You Can Make? "For our first wedding anniversary I bought a book from Kikki.K Stationary titled Love and inside it has things you can fill in like first meeting, first kiss, why I love you etc.   It was a great gift and hubby loved it. I think it cost around $30 but you could make your own [for free]." – Bernadette Hay

Create Your Own Storybook: You can always count on The Dating Divas for fabulous gift ideas for your hubby!  Most of my favorite ideas come from this group of creative ladies.

Joe Stash. "We made my husband a "Stash" jar. We filled it with his favorite candy or nuts. All you need is a mason jar, some letter stickers, candy/nuts, some ribbon and a mustache sticker. On the jar it said "Joe's Stash" with the mustache on it! Here's the link to how we did it." -Pricilla Jo Ramirez it

Show Him a Little Eye Candy: "You can have a local photographer take a Boudoir photo shoot of you, as tame or artsy as you want, then develop the shots and put them in a little black photo book just for him.  It's inexpensive, fun, different, will make you feel so beautiful and it will make his jaw drop!!" – Keirstin Faircloth

Create a Picnic Indoors. "When I want to do something for my husband (just because) I'll make a romantic indoor picnic.  We'll sit on a blanket in the middle of our floor and I'll put out the food, light candles, and turn on some music nice and low.  It can be VERY romantic and it costs nothing, really." – Amanda Sheppard

Seven Days of Love: I've featured this unique gift idea on this site previously but it's so fantastic I had to include it in this list!

Works Every Time.  And if you don't have time to do any of the other things on this list: "Wrap yourself in a bow…it works every time!" -Dawn Aquino-Dossantos
QUESTION: What 'just because' gift have you given your husband that knocked his socks off?  
Until tomorrow…make it a great day!

JOIN THE 1,000,000 MEMBER CHALLENGE: If you haven't already done it, what are you waiting for? Join the club! It takes only a few seconds and, of course, is free.

THE BOOK: Read the book that inspired the powerful TED talk and prompted author of The 5 Love Languages, Gary Chapman, PhD., to write the book's foreword. Drs. Les & Leslie Parrott, bestselling authors of Saving Your Marriage Before It Starts said, "We've been counseling couples and writing marriage books for a long time, and we can say with absolute certainty, there has never been a book quite like The Argument-Free Marriage. If you think no such union exists, or if you've come to the conclusion that arguments are necessary in marriage, allow Fawn to challenge that notion and set you on a path to creating the greatest partnership in life: your marriage."
Fawn Weaver is the USA Today and New York Times bestselling author of
Happy Wives Club: One Woman's Worldwide Search for the Secrets of a Great Marriage
, adopting the same name as the Club she founded in 2010. The Happy Wives Club community has grown to include more than 1 million women in over 110 countries around the world. She's an investor in real estate, tech sector and lifestyle brands. When she's not writing or working, she's happily doting over her husband of twelve years, Keith (and sometimes manages to do all three simultaneously).
Latest posts by Fawn Weaver (see all)
Related Posts
22
By
Lori FergusonLori Ferguson
December 9, 2015
3 Memorable Gifts to Give Your Husband This Christmas
Recent Posts
By
Fawn Weaver
November 12, 2017
Top 5 Regrets From the Dying: An Inspirational Article For Us All
By
Fawn Weaver
October 19, 2017
How to Protect Your Marriage During Challenging Times
By
Fawn Weaver
September 16, 2017
5 Unique Ways to Make Your Man Feel Special in 5 Minutes or Less