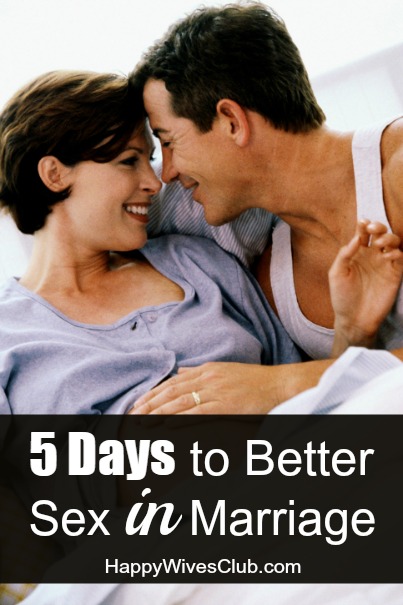 5 Days to Better Sex in Marriage
I was celibate for nearly eight years before marrying my husband.  So let's just say that after we said I do, the phrase "getting back on the saddle" took on a whole new meaning. 
I'll be the first to admit that I didn't know what I was doing…seriously.
Almost eleven happily married years later and there are days when I'm still a bit clueless.  And since I know many of you also feel the same way on some days, I'm sharing with you five things I've employed in my own sex life that has worked magic and I'm hoping it'll do the same for you. 
Give this 5-day challenge a try and enjoy amping your sex life up to the next level.

5 Days & 5 Ways to Better Sex in Marriage
DAY ONE: Exploration.  We humans can be a bit arrogant.  We think we know far more than we usually do.  As we age, our bodies and hormones change. 
What sent you to the moon and back ten years ago may not even cause a tingle in your little toe today.  That's okay.  No, it doesn't mean something is wrong with your marriage or the romance is gone. 
It could simply be your body telling you it's changed a bit and it's time to begin exploring it once again.  There are many ways to do this.  The Hot/Cold game is my personal favorite (when he touches you in a place that sends shivers up your spine, say "hot, hot, hot"). 
DAY TWO: Lube it or lose it.  "To lube or not to lube…that is the question."  Well, maybe that wasn't the exact line from Shakespeare's Hamlet but close enough.  I've never quite understood why lubricant is such a taboo subject and why there's an entire cohort of people who think using it means there's something wrong with your sex drive.  Hogwash. 
As I've inched closer and closer to 40 years old, my body composition has changed.  And not just as the years go on but daily.  Depending on my hormone levels, there's no telling what might be going on in my body.  Lubrication takes the guessing work out.  But you have to find the right lubricant for your body.  Personally, I love Wet Synergy and Wet Platinum.  I purchase them from the local CVS or Walgreens.
Many like the lubricants with a "cool tingle" or "warming" effect.  For me, those cause me to laugh (at the most inopportune moments) because it gets either too hot or too cold in a very special place.  Bottom line: find one that works best for you and don't be afraid to try it. 
DAY THREE: Get out of the bedroom.  I know the bed is a fabulous place to make love.  It's comfy with fluffy pillows.  But too much of the same thing could become, well, a little boring over time.  If you've got kids, find a time and place when you won't be distracted (I remember reading an article years ago and laughing about Tim McGraw's comment about he and his wife, Faith Hill, ducking into closets around the house).  For us, we have a 22-year old in the house who would be mortified to think we were having sex in our bedroom (and she's told us as much).  So we're quite stealthy.  We have locations she doesn't know about and we use them…often.
Trying a new location can make all the difference in the world.  But don't take yourselves too seriously.  Making love should be fun.  If you end up falling over because you decide to test out a closet and trip over a pair of shoes or if you slip in the shower, it's okay.  Laugh it off.  Lighten the mood.  Just have fun with it!
DAY FOUR: Think sensual thoughts.  Nothing gets me going quite like thinking about my husband -and the times he sends my body into a frenzy- while he's still on his way home from work.  Poor guy.  He walks through the door and I'm like a cheetah pouncing on its prey.  I remember doing this on a plane home one day and when he picked me up from the airport, well, let's just say it was a pretty long ride home.  It seemed to take forever!  And he couldn't get me home fast enough. 
Send your husband flirty texts throughout the day.  Remind yourself of the last time you and he had mind-blowing sex.  Replay that again and again until you see him.  And then, once you see that beautiful smile, let all the things we discussed from days 1, 2, and 3 take over.
DAY FIVE: Create a sensual playlist.  Music has a way of transporting us in time like nothing else.  It can cause us to visualize things we haven't seen in years.  Create a playlist of songs that cause you both to want to tear each other's clothes off.  But don't forget, if you're playing it on your cellphone, put that thing on airplane mode to make sure your phone doesn't start ringing at the worst time possible.
I'm sure you've noticed, each of the five days of this challenge I'm suggesting you make love.  Yes!  And I'll tell you why.  The more you make love, the more your body will crave it.  And the more your body craves it, the more you and your husband will take the time to continue to explore what it takes to make your body rock.
If your schedules won't allow this to be done in five days, try making it a ten-day challenge.  But don't stretch it too far out or you miss the bonus effect of "make love more, want more."
Until tomorrow…make it a great day!

JOIN THE 1,000,000 MEMBER CHALLENGE: If you haven't already done it, what are you waiting for? Join the club! It takes only a few seconds and, of course, is free.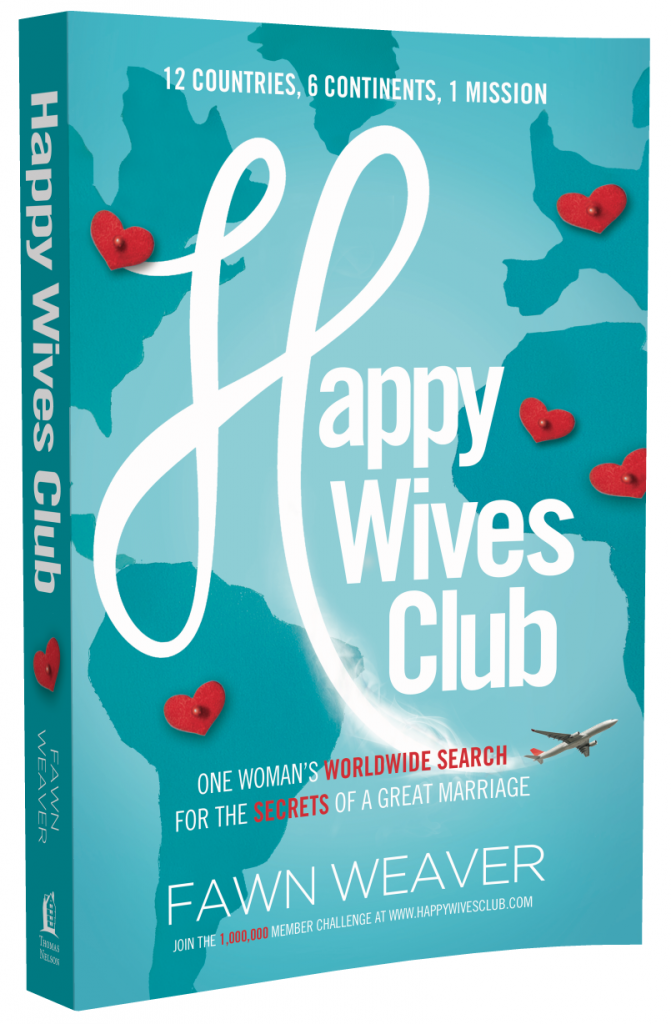 THE NEW YORK TIMES® BEST-SELLING BOOK: It's been described as, "Like Eat, Pray, Love but not down on marriage." Make sure to check out the Happy Wives Club book.  I had the great honor of traveling to 12 countries on 6 continents, interviewing couples happily married 25 years or more, with 1 mission only: to find out what makes marriages happy…and keeps them that way.  It's a marriage book like none other.  Guaranteed.
Fawn Weaver is the USA Today and New York Times bestselling author of
Happy Wives Club: One Woman's Worldwide Search for the Secrets of a Great Marriage
, adopting the same name as the Club she founded in 2010. The Happy Wives Club community has grown to include more than 1 million women in over 110 countries around the world. She's an investor in real estate, tech sector and lifestyle brands. When she's not writing or working, she's happily doting over her husband of twelve years, Keith (and sometimes manages to do all three simultaneously).
Latest posts by Fawn Weaver (see all)
Related Posts
4
By
Fawn WeaverFawn Weaver
November 12, 2017
Top 5 Regrets From the Dying: An Inspirational Article For Us All
43
By
Fawn WeaverFawn Weaver
October 19, 2017
How to Protect Your Marriage During Challenging Times
35
By
Fawn WeaverFawn Weaver
September 16, 2017
5 Unique Ways to Make Your Man Feel Special in 5 Minutes or Less
Recent Posts
By
Fawn Weaver
November 12, 2017
Top 5 Regrets From the Dying: An Inspirational Article For Us All
By
Fawn Weaver
October 19, 2017
How to Protect Your Marriage During Challenging Times
By
Fawn Weaver
September 16, 2017
5 Unique Ways to Make Your Man Feel Special in 5 Minutes or Less