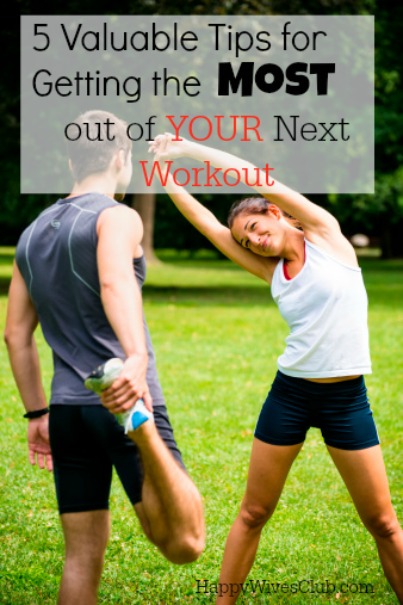 5 Valuable Tips for Getting the Most Out of Your Next Workout
Just like a car should be warmed up on a cold winters day before putting it into gear and driving off, you should properly prepare yourself for your workout.
Often times we get to the gym or press play on our DVD player to workout without taking any time to get ourselves really ready.
Sometimes because of we are in such a rush we can cause strains, nausea, dehydration, or worse.
There are several things I suggest you do so that you can make sure you are ready from head to toe.
Note that not everything I write below will be true for you, but take what you think will work for you and try it out for a better workout experience.
How to Properly Prepare for a Workout
Hydration is important prior to exercising. Make sure you are getting enough fluids daily so that your workout won't suffer. When you aren't properly hydrated you will be sluggish during your workout which will give you sub par results.
Eat a light snack or meal prior to your workout if you are prone to nausea. Some people like my husband can workout on an empty stomach which is great if you can do that. But for me, having a light snack gives me the energy I need to power through my workout. Try half a whole wheat bagel with a tablespoon of almond butter, or a banana with peanut butter.
Proper workout gear is one of the favorite tips of my clients who enjoy shopping. It's not just so you can look cute for your man, but it's really important for your body.  Having proper shoes is your first priority. Back and knee issues can often be alleviated with proper footwear. If you are working out at home I highly recommend getting a good workout mat to ease the blow on your bones and joints. Get a great support bra, and you'll be good to go!
Prepare your mind.  This could be the most important thing you do before you begin your workout.  Without the proper mindset you can cheat yourself by cutting corners and not pushing yourself as hard as you should.  Don't allow your mind to wander, instead focus on each and every exercise for maximum results. Go in determined to not give up, and do your best.
Warm-up before your go full force.  It's important to warm up your body so that your circulation slowly increases, your heart starts pumping, your body gets moving so you can properly do your exercises. A proper warm up will not only help you avoid injury, but it will also help to enhance your workout performance.
What do you do to prepare for your workout? Which tip will you try?
Annett Davis is an Olympian in Beach Volleyball. She loves great food and helping people get healthy over at
GetFitWithAnnett.com
. Her favorite topics are marriage and anything fitness related. Being married to her soul mate, Life Coach and author Byron Davis for 16 wonderful years, Annett loves being a homeschooling mom of 2. She blogs over at
FitMomsFitKidsClub.com
, and inspires kids to grandmas to get in shape for life in her private accountability groups.
Latest posts by Annett Davis (see all)
Related Posts
1
By
Annett DavisAnnett Davis
March 11, 2016
How to Get Motivated to Workout
3
By
Annett DavisAnnett Davis
September 12, 2013
20 Ways to Sneak a Workout Into Your Busy Day
Recent Posts
By
Fawn Weaver
November 12, 2017
Top 5 Regrets From the Dying: An Inspirational Article For Us All
By
Fawn Weaver
October 19, 2017
How to Protect Your Marriage During Challenging Times
By
Fawn Weaver
September 16, 2017
5 Unique Ways to Make Your Man Feel Special in 5 Minutes or Less