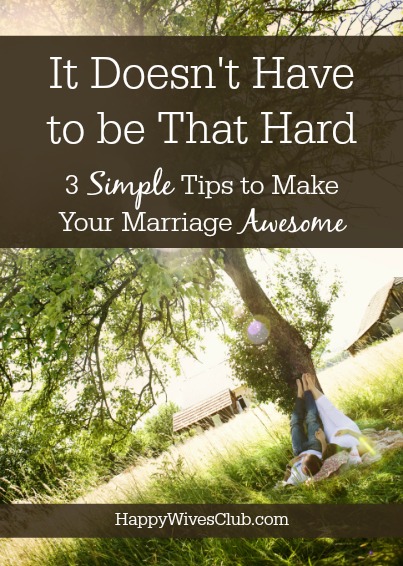 It Doesn't Have to Be That Hard: 3 Simple Tips to Make Marriage Awesome
A few weeks ago, I was sitting next to Peter Mehlman, co-executive producer for Seinfeld, at an author fair where we were both signing our books. I'll admit to quickly Googling him to find out why this guy (who looked like he'd just rolled out of bed moments before coming) had endorsements on the back of his book from every big wig in Hollywood. I learned he was a really big deal…which, apparently means you don't have to get all dressed up like far less known authors like me when going to a book signing.
As we began talking about my first book, Happy Wives Club, he asked me about the divorce rate, "I've always been a little skeptical of that 50-percent number people use." I told him the unofficial number is 47-percent but it's heavily skewed by those who end their marriage in the first couple years.
I told him that number includes so many who get married and then decide they don't really want to put in the effort to make it great. He looked at me with a slight grin, "You know, I've always said it doesn't have to be that hard."
My first response was, "That's a great book title!" (I'm calling dibs on the title, by the way, if it's not already taken

). And my second was just soaking in the brilliance of that simple statement:
It doesn't have to be that hard.
The merging of two lives isn't always easy. Compromising with another human being doesn't come naturally to most of us. But even with that, many of us make marriage much harder than it was ever meant to be. By applying these three tips, you might be surprised at what simple changes you and your spouse can make to create something truly special.
3 Tips to Make Marriage Awesome
1. Believe that your marriage can and should be awesome. This seems simple, maybe too simple, but you'd be surprised at how most marriages are improved by the small, consistent, simple and little things. If you got married and somewhere along the line began looking at everything that's wrong, all that your spouse does that's less than stellar, try shifting your focus. And not just today, but consistently, over time. A glass half full and a glass half empty are still one in the same. If you've been looking at your marriage as half empty, try looking at it half full…and then fill up the other half and take a sip.
2. Seek out a couple that has this marriage thing down pat. Keith and I have been doing this for more than a decade. When we see a couple doting over each other 25 years after they said "I do," we find time to join them for dinner, to have a cup of coffee together, to grab a bite to eat. When you are around a couple that has been creating the marriage of their dreams for a quarter of a century or more, you learn a lot. Just by watching the gentleness in their touch, the hope in their eyes and the palpability of their friendship, you begin to see what your marriage might be missing and the tiny things you can do to make it better.
3. Give yourselves a break. Figuratively and literally. In the figurative sense, we are oftentimes too hard on ourselves. If you're a perfectionist, like me, you want everything to be right all the time. You want to be the perfect spouse. Give yourselves a break and allow mistakes to be made…in grace. You are, after all, only human. Then literally give yourselves a break (a day off each week).
If I could convince you to do just one thing, it would be to set aside a day for yourselves to do nothing but whatever it is you want to do together. Turn off work mode. Turn off perfectionism mode. Turn off to-do list check off mode. And just be. And don't only just be…but just be together.
I believe with every bone in my body, and hope I'll never stop believing, marriage is meant to be one of the most beautiful gifts of our lifetimes. Being given the chance to create a lifelong friendship with someone is a pretty gnarly thing (where "gnarly" just came from I don't know…but let's just go with it).
Until tomorrow…make it a great day!


THE BOOK: Read the book that inspired the powerful TED talk and prompted author of The 5 Love Languages, Gary Chapman, PhD., to write the book's foreword. Drs. Les & Leslie Parrott, bestselling authors of Saving Your Marriage Before It Starts said, "We've been counseling couples and writing marriage books for a long time, and we can say with absolute certainty, there has never been a book quite like The Argument-Free Marriage. If you think no such union exists, or if you've come to the conclusion that arguments are necessary in marriage, allow Fawn to challenge that notion and set you on a path to creating the greatest partnership in life: your marriage."
Fawn Weaver is the USA Today and New York Times bestselling author of
Happy Wives Club: One Woman's Worldwide Search for the Secrets of a Great Marriage
, adopting the same name as the Club she founded in 2010. The Happy Wives Club community has grown to include more than 1 million women in over 110 countries around the world. She's an investor in real estate, tech sector and lifestyle brands. When she's not writing or working, she's happily doting over her husband of twelve years, Keith (and sometimes manages to do all three simultaneously).
Latest posts by Fawn Weaver (see all)
Related Posts
4
By
Fawn WeaverFawn Weaver
November 12, 2017
Top 5 Regrets From the Dying: An Inspirational Article For Us All
43
By
Fawn WeaverFawn Weaver
October 19, 2017
How to Protect Your Marriage During Challenging Times
35
By
Fawn WeaverFawn Weaver
September 16, 2017
5 Unique Ways to Make Your Man Feel Special in 5 Minutes or Less
Recent Posts
By
Fawn Weaver
November 12, 2017
Top 5 Regrets From the Dying: An Inspirational Article For Us All
By
Fawn Weaver
October 19, 2017
How to Protect Your Marriage During Challenging Times
By
Fawn Weaver
September 16, 2017
5 Unique Ways to Make Your Man Feel Special in 5 Minutes or Less