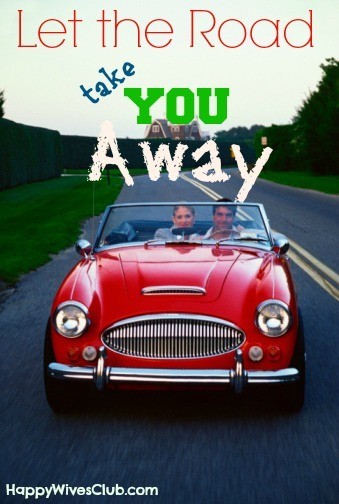 Let the Road Take You Away
When was the last time you just hopped in your vehicle and let the road take you away?
Spending time with your husband doesn't have to be complicated – the experience doesn't have to be planned.  Sometimes the unexpected creates the most memories.
Last Sunday we just took off in our truck – Robert and me. We came out from our neighborhood and turned left. That's all we planned. Turning left. It was a beautiful, yet hot, North Carolina afternoon, and after a busy week we needed to escape. (Ever feel the need to escape? Yup. I thought so.) Because of commitments on Monday morning, our escape could only be for a few hours, but that didn't stop us.
North Carolina back-roads are usually pretty smooth, so we meandered down first one road to another and then the next. No map. No GPS. At each crossroads Robert would ask me – "Left, right or straight?" It became a game. 
We saw fields of fairly tall corn, tobacco plants shooting up and fresh cut hay. Because it was Sunday the combines were still and silent in the fields, waiting for Monday. Those who were out walking, or working in their yards alongside the road would lift a hand in greeting. We, of course, waved back. The clouds moved and shifted in the sky with the sun often peeking out. First through one small town, and then another. Wonderful names like Spring Hope, and Murray's Millpond, Turkey Creek, and Peachtree Hills.
Then we came to Justice.
How many people search for justice and never find it?  Well, we did.  Right down the road. In North Carolina. Who knew?
What's waiting for you just down the road?
This weekend, or next, take a few hours and be wanderers…  explore. If you have kids, you may have to plan a drop off at a friends (or grandmas). Being alone with your spouse is key – it's gotta be just the two of you! 
Here are three things to keep in mind for your afternoon (or morning or evening) escape:
Don't Plan - 

the fun is in the discovery! Create your own game for deciding which way to turn or when to stay straight.

Keep a Camera Handy – because you're going to want to remember your adventure!
Don't Be Afraid to Turn Around – you're going to see things that will catch your imagination, so be ready and open to turning around, or going down a lane or stopping for an ice cream.
Remember, there's no agenda – you don't have to be anywhere. You're just wandering.
When was the last time you escaped on an adventure?
Lori Ferguson is a writer with a passion to encourage. She's a Christ follower, wife of 30 years, and mom to grown kids. You can find her online at
EncourageYourSpouse.com
where she blogs somewhat regularly about encouragement in marriage. Lori and her husband work with couples who lead - in business, ministry & non-profit. Check out
LeadershipCouples.com
for more information.
Latest posts by Lori Ferguson (see all)
Related Posts
16
By
Fawn WeaverFawn Weaver
September 28, 2016
The Fun Dare: 12 Dates in 12 Days
20
By
Fawn WeaverFawn Weaver
February 24, 2015
Top 20 Stay-At-Home Date Night Ideas
1
By
Maggie ReyesMaggie Reyes
January 6, 2015
Free Date Idea: Take a Fantasy Tour Around the Globe
Recent Posts
By
Fawn Weaver
November 12, 2017
Top 5 Regrets From the Dying: An Inspirational Article For Us All
By
Fawn Weaver
October 19, 2017
How to Protect Your Marriage During Challenging Times
By
Fawn Weaver
September 16, 2017
5 Unique Ways to Make Your Man Feel Special in 5 Minutes or Less