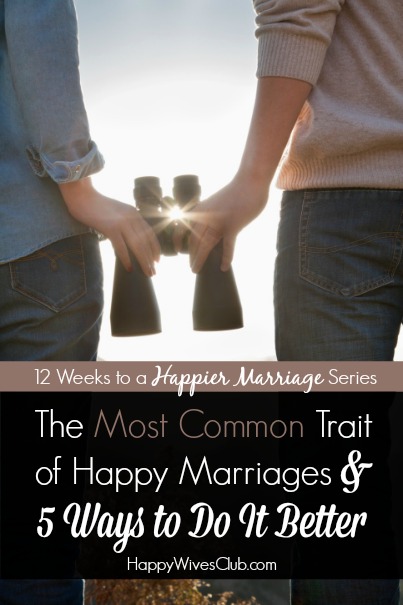 The Most Common Trait of Happy Marriages (5 Ways to Do It Better)
*Welcome to week seven of this 12-week series based on the New York Times® bestselling book, Happy Wives Club.  Join me each week as I share 12 principles about marriage I've learned from some of the happiest couples around the world.*
_____________________________
Each week, when I come to the pages of the Happy Wives Club, I do so with the hope that someone will be inspired.  And not just anyone.  You.   Beautiful, wonderful you.
The posts are always written for wives because that is who this site was created to serve.  That is who has always frequented these pages.  That is, until as of late. 
Since the beginning of this year, I've seen a sharp rise in the number of husbands visiting the site.  Most come in hopes of learning how to make their own wives happy. 
Of course, I'd never attempt to give advice on how to make one person's spouse happy as each marriage is as different as a fingerprint. 
I do, however, share what I've discovered to be the most common trait among happily married couples I've interviewed over the years.  
And seven installments into our 12 Weeks to a Happier Marriage series, it seemed like the perfect time to share it here.  Two simple words:
Mutual respect.
Whenever I share this, there is always a sigh of relief.  "I can do that!"  And then as they continue to reflect on those two seemingly simple words, they usually come back with a follow-up, "So what does respect look like and how do I do that better?"
Years ago, not long after I began this club, a local newspaper publishing a story on me sent their photographer to my home.  During our time together, he shared that he and his wife had just been in an argument over dinner the night before.
His wife had taken the time to cook a wonderful meal.  But when she was ready to serve it, he continued working on some photos he'd begun editing. She became frustrated. He responded in a like manner, and as is usually the case in these scenarios, an argument ensued.
I posed one simple question to this newly married photographer. I'd heard another counselor ask it of a feuding couple: "Think of someone you hold in high esteem. The president. The chancellor of your university. Your pastor.  Your rabbi. Think of that person you have enormous respect for and tell me how you would have responded if he or she called for you and said, 'The meal I was preparing for dinner is now ready'?"
The photographer thought about it for a brief moment, gave a smile that let me know he 'got it,' and then conceded he would have gone to the dinner table immediately.
I reminded him that his wife was the only person he chose and subsequently pledged to be with for the remainder of his life. He wasn't given an option in choosing his parents or siblings. He didn't have the deciding vote in who would be his country's president. He certainly had no say in selecting his university's chancellor. But he held each of them in higher regard than he held his wife—the one person he not only had the pleasure of choosing, but who also honored him by reciprocating that choice.
Respect is not said.  Respect is shown.  It is seen in our day-to-day actions and the happiest couples have this down pat.  If you ever want to see respect in full bloom, just spend time around a couple who has been happily married for decades.  They joke with each other, tease one another over their flaws and quirks.  But through the jokes and teasing, the respect is always palpable. 
It is always there, in the midst of every word and every action.
To answer the second part of the question I generally get from husbands -how they can respect their wives better- I generally offer these suggestions (which are relevant to both spouses):
5 Ways to Show the Most Common Trait of a Happy Marriage:
1. Treat your spouse like they are the most important person in the world.  Because they are.  No one else has pledged their life to you.  No other person has committed to be with you through the ups and the downs, the good times and the bad, through wealth and poverty.  No person experiences your rawest emotions and greatest flaws more often than your spouse.  That alone has earned them a place above all other beings on earth.
2. Think about what respect looks like to you and replicate that.  Yes, what your spouse needs from you to feel love may be different than what you need from them (that's why Dr. Gary Chapman's The 5 Love Languages is so brilliant).  But respect is respect.  Ask yourself, "How can my spouse show they respect me more?"  And then do everything that comes to mind in response to that question.  The golden rule of doing unto others as you would have them do unto you applies to respect just as it does all else.
3. Do not allow a mistake to negate what has already been earned.  Respect, as most often defined, is "a positive feeling of esteem or deference for a person or other entity, and also specific actions and conduct representative of that esteem."  We all make mistakes.  Every day.  Not one of us is perfect.  Not even you.  There is never a good reason to disrespect your spouse.  Yes, address the issue.  Deal with the mistake.  Don' sweep it under the rug.  But when addressing it, try to always do so with the utmost respect.
4. Speak through a filter.  If you've visited this site for a couple years, you likely know my two favorite acronyms are AEOD. (Accept Each Other's Differences) and NJLG: No Judgment.  Love.  Grace.  When speaking with your spouse, applying this filter to your mouth can go a long way.  If the words travel through a filter of NJLG –meaning, if you ask yourself, "Are these words seasoned with grace?  Are they without judgment and are they sprinkled with love?" it will be hard for you to ever say something to your spouse lacking respect. 
5. Remember that respect has no gender.  Women, men, husbands, wives – the key to this common trait among happy marriages is the word that goes in front of respect: Mutual.   In the happiest of marriages, respect and reverence swings both ways.  Your spouse gave up their most prized possession –their life- and placed it in the palm of your hands the day they said, "Til' death do us part."  There are few phrases more powerful than that, and the person who said them to you and meant it, deserves your honor and respect.
YOUR TURN: What would you add to this list?  In what ways can a husband or wife show greater respect to their spouse?
Until next time…make it a great day!

JOIN THE 1,000,000 MEMBER CHALLENGE: If you haven't already done it, what are you waiting for? Join the club! It takes only a few seconds and, of course, is free.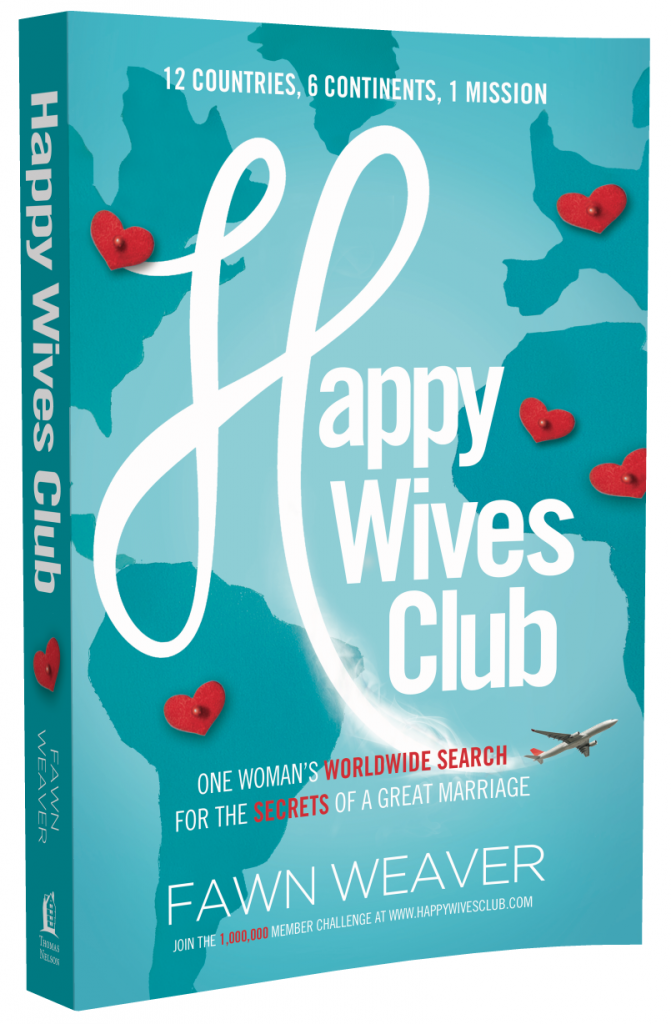 THE NEW YORK TIMES® BEST-SELLING BOOK: It's been described as, "Like Eat, Pray, Love but not down on marriage." Make sure to check out the Happy Wives Club book.  I had the great honor of traveling to 12 countries on 6 continents, interviewing couples happily married 25 years or more, with 1 mission only: to find out what makes marriages happy…and keeps them that way.  It's a marriage book like none other.  Guaranteed.
Fawn Weaver is the USA Today and New York Times bestselling author of
Happy Wives Club: One Woman's Worldwide Search for the Secrets of a Great Marriage
, adopting the same name as the Club she founded in 2010. The Happy Wives Club community has grown to include more than 1 million women in over 110 countries around the world. She's an investor in real estate, tech sector and lifestyle brands. When she's not writing or working, she's happily doting over her husband of twelve years, Keith (and sometimes manages to do all three simultaneously).
Latest posts by Fawn Weaver (see all)
Related Posts
4
By
Fawn WeaverFawn Weaver
November 12, 2017
Top 5 Regrets From the Dying: An Inspirational Article For Us All
43
By
Fawn WeaverFawn Weaver
October 19, 2017
How to Protect Your Marriage During Challenging Times
35
By
Fawn WeaverFawn Weaver
September 16, 2017
5 Unique Ways to Make Your Man Feel Special in 5 Minutes or Less
Recent Posts
By
Fawn Weaver
November 12, 2017
Top 5 Regrets From the Dying: An Inspirational Article For Us All
By
Fawn Weaver
October 19, 2017
How to Protect Your Marriage During Challenging Times
By
Fawn Weaver
September 16, 2017
5 Unique Ways to Make Your Man Feel Special in 5 Minutes or Less