Can you still remember the first date or outing that you and your husband shared? The excitement, the butterflies, nervousness and maybe even a bit of awkwardness.

This fun little date night idea will help you reminisce on those old memories. All you have to do is think about your first date and try to recreate it. Eat at the same restaurant, visit the same places, or watch the same movie (at home). You could even try to wear similar clothing or take photos in the same places that you did so many years ago. 
Recreating the first date can be a super fun and romantic way to celebrate anniversary milestones, or just to revisit old memories together! It's the perfect time to think about how far your relationship has come, since that first butterfly-filled evening together.
My husband and I did this on the 2 year anniversary of the day we met. We first talked inside a Starbucks, so we went back, 2 years later, sat in the same spot, and talked about how much had changed in just 2 short years.
This time we were married, and even had our newborn son with us! It was a bit surreal as we realized that just 2 years earlier we had sat there, getting to know each other, talking about our dreams. We had no idea that we would one day be there again, together, married for almost 2 years (for those doing the math, yes, we got married 35 days after we met), with our son next to us, and endless love between us.
On that first unofficial date that started it all, we never would have guessed that we would end up happy and in love, but we did.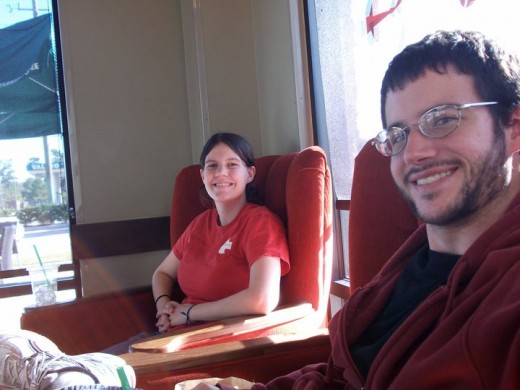 Recreating special moments is such a romantic way to reminisce and it is a beautiful way to build new memories together. 
Where did you and your husband share your first date? How can you re-create that day?