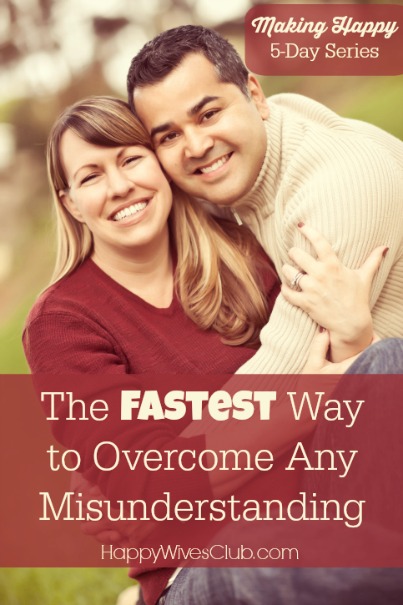 The Fastest Way to Overcome Any Misunderstanding (3 Easy Tips)
I've been waiting for this 5-day marriages series for a couple months now.  
Excited to bring you two marriage experts that I have come to know and love for two reasons: 1) Their love for each other; and 2) Their ability to work together to help others improve their marriages.
This week, Drs. Les & Leslie Parrott, are releasing their brand new book, Making Happy: The Art and Science of a Happy Marriage, so I asked them to take over the Happy Wives Club site for the entire week and share some of the wisdom they're teaching in this book.
I've never done this before, allowed someone to hijack the home page of HappyWivesClub.com for a 5-day series, but hopefully once this week is concluded, you'll be so happy I did.
As soon as I started reading Making Happy I knew it was going to be helpful to couples everywhere.  While flipping through the introduction, something jumped out at me, "Marriage doesn't make you happy–you make your marriage happy."
Sometimes it's just helpful for us to, not only be reminded of what it takes to create a happy marriage, but the actual science behind those principals.  Happy marriages are are not by happenstance.  They are created and cherished.
Until tomorrow…make it a great day!

______________
John, our teenager, was looking forward to a weekend event with his buddies at church. But he never got to go. Why? Because each of us thought the other had submitted the payment. But neither of us had. And it was too late. All the spots were filled. John wasn't happy and our marriage was feeling the pain.
"You always take care of that stuff," Les exclaimed.
"But this was something you and John talked about."
"I know but I still thought you had the paperwork to fill out," Les protested.
"I did but you could have done it."
We blamed each other for a few moments and then one of us said, "Okay, I can see why you thought I was taking care of it."
Sigh.
That was that.
Chalk it up to a simple misunderstanding.
Every marriage is full of them. Right? They're endemic. And if any couple says they don't have many misunderstandings, they're misunderstanding the question.
Misunderstandings are a part of every married couple's life. And if we don't learn how to manage them, they manage us and we'll soon be embroiled in perpetual conflict.
In fact, misunderstandings are one of the most common roadblocks to happiness in marriage. We discovered this fact while writing our new book, Making Happy: The Art and Science of a Happy Marriage. If you're looking for happiness in love, you won't find it with two people who feel misunderstood.
Misunderstandings are exasperating for the simple fact that both sides see it from their angle only.
The solution?
It's simple.
It only takes one person to put their perspective on hold and see the issue from their partner's point of view. That's all. If one person does this, the misunderstanding is resolved, the tension eases, and life moves forward.
Easy peasy.
It only takes one person to turn around a misunderstanding by honoring the other's perspective. That's what the Apostle Paul was getting at when he said, "Honor one another above yourselves."
When we honor our spouse we have an internal attitude of respect and courtesy. But it's more than lip service.
So how do we do this?
Here's Three Tips to Overcome Any Misunderstanding:
Press your mental "pause" button. If you ever want to circumvent misunderstanding, you have to stand back, cool down, and be objective. You can't turn it around by staying hot and bothered.

Use your head. Be objective and ask what it would be like to literally be in your spouse's shoes. After a day like they've had, what would it feel like to be in their skin? This will take some effort but try your best.

Use your heart. Feel your partner's feelings. How? Say something like, "Are you feeling like I'm belittling you right now?" And listen. Listen aggressively – not just to the words but the feelings underneath them.
Do these three things and you can't help but honor your partner with respect. You can't help but to change your perspective because you'll see the issue through your partner's eyes.
 And here's a secret – your new perspective is contagious. So don't be surprised when your spouse does the same for you.
YOUR TURN:  How do you overcome your misunderstandings?  You can respond below.
##
JOIN THE 1,000,000 MEMBER CHALLENGE: If you haven't already done it, what are you waiting for? Join the club! It takes only a few seconds and, of course, is free.
Drs. Les & Leslie Parrott are #1 New York Times best-selling authors of Saving Your Marriage Before It Starts, Love Talk, Crazy Good Sex, and Making Happy. The Parrotts speak in more than thirty cities annually and they blog about marriage at
LesAndLeslie.com
.
Latest posts by Drs. Les and Leslie Parrott (see all)
Related Posts
4
By
Fawn WeaverFawn Weaver
November 12, 2017
Top 5 Regrets From the Dying: An Inspirational Article For Us All
43
By
Fawn WeaverFawn Weaver
October 19, 2017
How to Protect Your Marriage During Challenging Times
35
By
Fawn WeaverFawn Weaver
September 16, 2017
5 Unique Ways to Make Your Man Feel Special in 5 Minutes or Less
Recent Posts
By
Fawn Weaver
November 12, 2017
Top 5 Regrets From the Dying: An Inspirational Article For Us All
By
Fawn Weaver
October 19, 2017
How to Protect Your Marriage During Challenging Times
By
Fawn Weaver
September 16, 2017
5 Unique Ways to Make Your Man Feel Special in 5 Minutes or Less