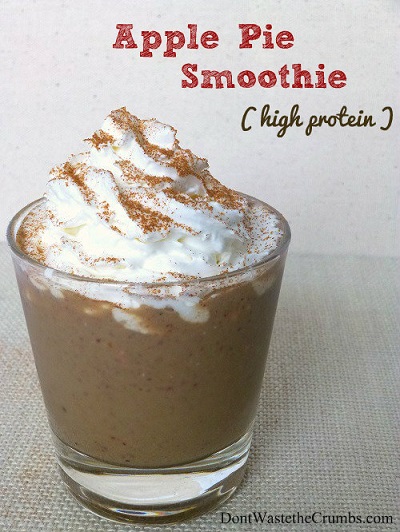 High Protein Apple Pie Smoothie (No Powder!)
Apple pie is a favorite dessert when the weather turns cold. Slightly sweet apples mixed with cinnamon, nestled between two flaky, buttery crusts is the perfect way to end a meal with fresh, seasonal fruit.  
Unfortunately, meals seem to be a bit bigger and a bit heavier this time of year and tummies often don't have enough room after dinner to fit even a small slice of pie. 
Plus, if we're being honest, we've probably already eaten more than our fair share of homemade cookies!
Instead of skipping dessert, or over-indulging in too many sweets, why not have apple pie for breakfast?  This smoothie tastes just like dessert, and as a healthy bonus, it has over 20 grams of protein! 
This high protein apple pie smoothie is from my new eBook, High Protein, No Powder:  Protein Bars and Smoothie Made with Real Food.  High Protein, No Powder. 
My healthy cookbook explains the dangers of processed protein powders, teaches you how to make protein bars and protein smoothies with real food. 
It also offers over 30 delicious recipes to get you started as soon as you get rid of the fake powders.
High Protein, No Powder will be officially released in January, but you can get a sneak preview with this apple pie smoothie recipe.  Now you can indulge in dessert any time of day!
High Protein Apple Pie Smoothie
1 cup kefir
1/2 tsp vanilla extract
1/2 cup white beans
1 cup loosely packed spinach
1/2 cup banana
1 1/2 cups peeled apple
1/2 tsp cinnamon
1/4 tsp nutmeg
1/4 cup coconut water or whey (optional)
Add the ingredients in the order listed to a blender and process.  Repeat if necessary to ensure smooth consistency.  Serves 1.
Have a blessed day!  Tiffany @ Don't Waste the Crumbs
Tiffany
is a frugal foodie, balancing the desire to feed her family healthy food while being a good steward of her finances. She realizes it's possible to eat good food on a small budget if you make baby-sized changes. She works hard at mastering real food without going broke and shares her journey at
Don't Waste the Crumbs
and on
Facebook
.
Related Posts
0
By
Annett DavisAnnett Davis
September 27, 2015
Creamy Garlic Salad Dressing
0
By
Aunt LaLaAunt LaLa
August 18, 2015
Easy Pulled Pork Sandwich
2
By
Aunt LaLaAunt LaLa
August 15, 2015
Aunt Vivian's Chicken in White Wine Sauce
Recent Posts
By
Fawn Weaver
November 12, 2017
Top 5 Regrets From the Dying: An Inspirational Article For Us All
By
Fawn Weaver
October 19, 2017
How to Protect Your Marriage During Challenging Times
By
Fawn Weaver
September 16, 2017
5 Unique Ways to Make Your Man Feel Special in 5 Minutes or Less