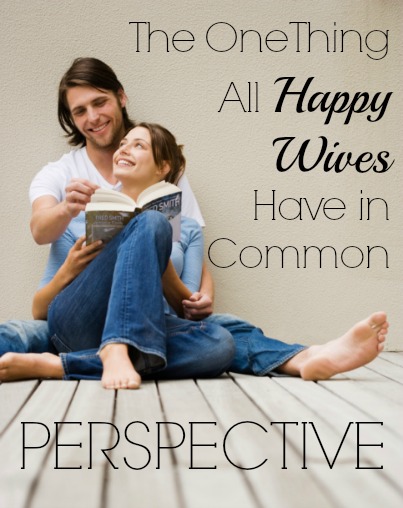 Marriage Mondays: The One Thing All Happy Wives Have in Common
On Friday, I wrote about ten things your husband does that just don't matter.  A comment posted by Kim Hall later summed it up perfectly.  She said:
"[You have to] put things in proper perspective.  I think a great question to ask ourselves is this: If I lost my husband today, would I be grateful he was gone because now the toilet seat would always be down, paper rolling the right way, clothes no longer on the floor, etc.? That question really zooms those little things back into their proper perspective for me!"
What I loved about Kim's comment is it cuts right to the heart of a particular matter.  It reminds us of something Richard Carlson, PhD spent his brief lifetime telling us, Don't Sweat the Small Stuff…and it's all small stuff.
So, how is your marital perspective?
The Happy Wives Club is a community of close to 150,000 women in more than 100 countries around the world, and my conversations with thousands -literally, thousands- of them, has taught me one simple truth. Those who are genuinely happy all have this in common: Perspective.
When Keith boarded a flight early Friday morning, there was little I cared about more than his safe return. No quirk, idiosyncrasy, flaw or fault of his could mean more to me than him coming home safely.
And when he is home, I feel the same way. No flaw, quirk or difference will ever override my love, respect and adoration for this man I am honored to call my husband.
There is a great quote by Maya Angelou, "If you don't like something, change it. If you can't change it, change your attitude. Don't complain."  I learned long ago that nothing good comes from complaining.  Nothing productive whatsoever.  
Good, however, always comes out of keeping everything in the proper perspective.  It frees us to go after exactly what we desire most, to create our happily ever after through gratitude, and to not waste time on anything that will not matter in the end.  It allows us to solve problems with our spouse rather than against them.
This, I am certain, my fellow happy wives and I have in common.  And that is one of the many reasons I am so honored to be a member of this club.
QUESTION: How important do you think perspective is in the lives of those who are genuinely happy?  (would love to hear from you in the comment section below)
Until tomorrow…make it a great day!

JOIN THE 1,000,000 MEMBER CHALLENGE: If you haven't already done it, what are you waiting for? Join the club! It takes only a few seconds and, of course, is free.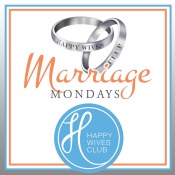 Fawn Weaver is the USA Today and New York Times bestselling author of
Happy Wives Club: One Woman's Worldwide Search for the Secrets of a Great Marriage
, adopting the same name as the Club she founded in 2010. The Happy Wives Club community has grown to include more than 1 million women in over 110 countries around the world. She's an investor in real estate, tech sector and lifestyle brands. When she's not writing or working, she's happily doting over her husband of twelve years, Keith (and sometimes manages to do all three simultaneously).
Latest posts by Fawn Weaver (see all)
Related Posts
45
By
Christine St. VilChristine St. Vil
January 16, 2016
8 Essential Keys to Being a Happy Wife
78
By
Cheri GregoryCheri Gregory
December 6, 2013
Miserable to Happy Wife With One Simple Change
42
By
Fawn WeaverFawn Weaver
June 12, 2013
The #1 Way You Can Help Your Husband After a Tough Day
Recent Posts
By
Fawn Weaver
November 12, 2017
Top 5 Regrets From the Dying: An Inspirational Article For Us All
By
Fawn Weaver
October 19, 2017
How to Protect Your Marriage During Challenging Times
By
Fawn Weaver
September 16, 2017
5 Unique Ways to Make Your Man Feel Special in 5 Minutes or Less