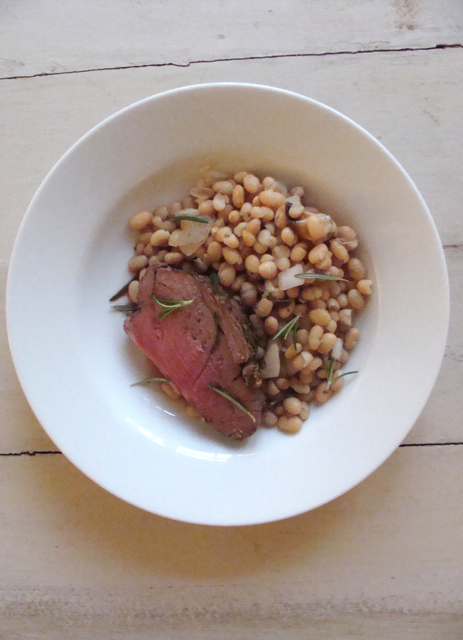 Spring Lamb with White Beans
This dish, to me, is an ideal marriage of rustic and elegant. Rustic, because of the earthiness of the lamb and the rosemary, and the savory richness of the juices that infuse the beans. Elegant because of the perfect balance in flavors, the softness and delicacy of the tiny white cannellinis. I can imagine this roast in the homes of ancient Greek peasants, just as I can imagine it at the banquets and feasts of their rulers. Deliciously simple, yet somehow exquisite.
I always think of lamb as a spring dish–perfect for Easter (which I'm just a tad late for), or Mother's Day, or a special graduation dinner. And this preparation in particular is wonderful for this time of year. The white beans bring a lightness and freshness to the roast, a burst of white against the red meat, and in fact, sometimes I'm convinced they even steal the show. As they cook in the juices of the lamb, the beans develop the most lovely taste and the creamiest texture. Lamb can be a little rich (though I recently learned that it's actually quite healthy) and the beans provide a refreshing balance.
I would typically serve this with a bright green side, like spring asparagus or a colorful green salad. 
Roast:
1 leg of lamb, 6-8 pounds
Juice of 1 lemon
2 Tbs. fresh rosemary 
1/2 Tbs. salt
1/2 tsp. black pepper
4 cloves garlic, peeled and cut into slivers
Seasoned Beans:
5 cans cannellini beans, rinsed and drained
2 cloves garlic, diced
1 small onion, chopped
1 Tbs. fresh rosemary
1/2 Tbs. salt
1/2 tsp. black pepper
Trim some of the excess fat from the leg of lamb and let the meat sit at room temperature for a half hour. Then sprinkle all over with lemon juice and rub it with salt, pepper, and rosemary. Cut small gashes into the roast with a sharp pointed knife and insert numerous slivers of garlic. Place roast in a large pan or dutch oven and cook at 350 degrees.
In a large bowl, mix the beans with the garlic, onion, rosemary, salt, and pepper. At about the 90-minute mark of the roasting, pour the seasoned beans right into the pan all around the roast. Stir in with the lamb juices and return to oven for an additional half-hour of cooking. 
The dish will be done after a total of about two hours of roasting. The internal temperature will register 135 degrees for rare meat, 145 for medium-rare, and 160 for medium-well (be careful not to overcook the lamb). Serves 8-10. 
Recipe is from my family's cookbook Finger Lakes Feast. Originally adapted from A Continual Feast cookbook.
Kate Harvey is a writer, classical pianist, and young wife who lives with her Army helicopter pilot husband in Southern Alabama, where they are currently stationed. She graduated in December 2009 from the University of Notre Dame with degrees in American Studies and Piano Performance. In May 2012, Kate received her Master of Music degree in Piano Performance from Purchase College in New York. She is the co-author (along with her father and photographer brother) of a cookbook entitled Finger Lakes Feast, which was published in November 2012 by McBooks Press. Kate recently began a writing blog called Something Ivory where she blogs about married life, food and cooking, modern womanhood, music, thrifting and antiques, and faith. She can be reached at kate.z.harvey@gmail.com.
Latest posts by Kate Harvey (see all)
Related Posts
0
By
Annett DavisAnnett Davis
September 27, 2015
Creamy Garlic Salad Dressing
0
By
Aunt LaLaAunt LaLa
August 18, 2015
Easy Pulled Pork Sandwich
2
By
Aunt LaLaAunt LaLa
August 15, 2015
Aunt Vivian's Chicken in White Wine Sauce
Recent Posts
By
Fawn Weaver
November 12, 2017
Top 5 Regrets From the Dying: An Inspirational Article For Us All
By
Fawn Weaver
October 19, 2017
How to Protect Your Marriage During Challenging Times
By
Fawn Weaver
September 16, 2017
5 Unique Ways to Make Your Man Feel Special in 5 Minutes or Less