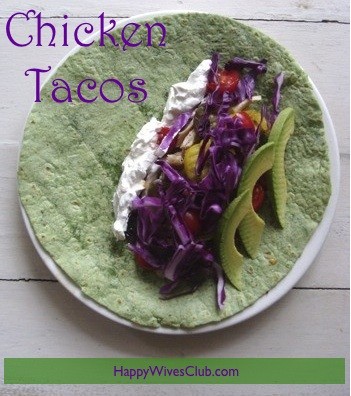 Chicken Tacos
These chicken tacos fall into the healthy, quick and easy category which makes them an ideal weeknight dinner. My husband and I love them for many reasons. Using tender shredded chicken thighs instead of ground beef as the base is not only more nutritious, but we think they make for a more interesting, chunkier taco. 
We pile on fresh cold veggies, with varying textures and levels of crunch, so they're light and refreshing for hot summer nights.  I like to make the chicken in advance and store the shredded thighs in the fridge so that all I have to do at dinnertime is warm the tortillas and chop the vegetables. 
Tacos are also highly customizable (everyone makes their own!) so they are a good choice for guests or picky little eaters. 
I've listed some ideas for toppings, but really, anything goes! In the past I've thrown on some leftover cooked kale, squeezed a little lemon juice on top, and added a few torn basil leaves. Just don't skimp on the vegetables, they truly are the best part.
Chicken Tacos
For the chicken:
1 package chicken thighs
1 onion
1 bay leaf
3-5 cloves garlic, slightly crushed with the flat part of your knife
1 tablespoon cumin
Salt and freshly ground pepper
Rinse the chicken and put it in a medium-sized pot, along with the rest of the ingredients.  Add enough water to cover all of the chicken. You can add more or less of each of these ingredients, or simply simmer the chicken in salted water–the aromatics and spices lend a subtle flavor to the chicken. Bring to a low boil, cover partially, and cook for about 30 minutes or until the chicken is tender and falling apart. Let cool and then shred with your fingers or a fork, discarding any excess fat.
For the tacos, heat up several tortillas (corn, flour, spinach–whatever you like!) wrapped in tin foil in a 350-degree oven.
You can use any kind of taco toppings you like, but here are some of our favorites:
Sour cream
Salsa
Cheese (feta, shredded cheddar or Monterey jack)
Sliced green, red, yellow, or orange bell peppers
Pickled jalapeno and banana peppers
Shredded red cabbage
Diced tomatoes
Mashed avocado
Diced cucumbers
Fresh spinach or arugula
Kate Harvey is a writer, classical pianist, and young wife who lives with her Army helicopter pilot husband in Southern Alabama, where they are currently stationed. She graduated in December 2009 from the University of Notre Dame with degrees in American Studies and Piano Performance. In May 2012, Kate received her Master of Music degree in Piano Performance from Purchase College in New York. She is the co-author (along with her father and photographer brother) of a cookbook entitled Finger Lakes Feast, which was published in November 2012 by McBooks Press. Kate recently began a writing blog called Something Ivory where she blogs about married life, food and cooking, modern womanhood, music, thrifting and antiques, and faith. She can be reached at kate.z.harvey@gmail.com.
Latest posts by Kate Harvey (see all)
Related Posts
0
By
Annett DavisAnnett Davis
September 27, 2015
Creamy Garlic Salad Dressing
2
By
Aunt LaLaAunt LaLa
April 24, 2014
Easy Chicken Stir Fry
0
By
adminadmin
April 10, 2014
Tropical Green Smoothie
Recent Posts
By
Fawn Weaver
November 12, 2017
Top 5 Regrets From the Dying: An Inspirational Article For Us All
By
Fawn Weaver
October 19, 2017
How to Protect Your Marriage During Challenging Times
By
Fawn Weaver
September 16, 2017
5 Unique Ways to Make Your Man Feel Special in 5 Minutes or Less