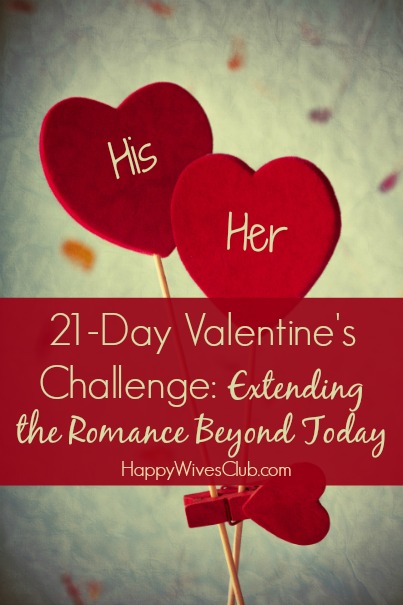 21-Day Valentine's Challenge: Extending the Romance Beyond Today
Twelve years ago, Keith and I celebrated what was likely our last Valentine's Day.  For weeks, I knew he had something big in the works and I was over the moon excited.
You see, in grade school, I was the awkward-looking girl who never got one of those neat candy grams with the red heart suckers and "will you be mine" notes.  So my entire life, I wanted to experience a beautiful Valentine's Day.
So for our first Valentine's Day as husband and wife, Keith meticulously planned the most amazing day I could possibly imagine.  It culminated with dinner in the city where he proposed, San Francisco.
At the end of our culinary delight, the waiter brought over the check.  As Keith was signing it, I caught a glance from across the table and let out an audible gasp.
It was at that moment I decided I never wanted him to feel pressured to create the perfect Valentine's Day again.  
That's why I love this post by HWC contributor, Christine St. Vil.  It takes this day that celebrates love and romance and extends it so there isn't a pressure to do it all in one day.
So if you're looking for a fun idea to continue the romance well beyond today, take this 21-day Valentine's challenge.
Until Monday…make it a great weekend!

___________
I still remember the very first Valentine's Day that my husband (then boyfriend) and I spent together nearly 17 years ago. He surprised me by cooking a steak dinner at home (and he by no means enjoyed cooking), and actually spent time going clothes shopping for me (he still doesn't care to shop at all). The night was complete with chocolate, a teddy bear and lavender roses (my favorite).
All these years later, while I love spending time together and celebrating Valentine's Day, it has nothing to do with the actual day. I see it as a day to celebrate the love of my life and all the joy he's brought me many years later (and of course, I love flowers!). Yes, Valentine's Day is sweet, but every day is Valentine's Day in our house. So I thought it'd be great to start a marriage love challenge to emphasize that our love goes way beyond one day of the 365 in the year.
21 Day Romance Challenge
Week 1
Day 1 – February 14th:  Leave a love note. Surprise your hubby and write him a short love note about why you appreciate him. Stick it in his lunch bag, on the seat of his car, in his jacket pocket, or anywhere else he'll be surprised to find it.
Day 2 – February 15th:  Hug and hug again. A good hug can be a powerful unspoken word. Take time today to snuggle up and cuddle with your man.
Day 3 – February 16th:  Ask him what he needs. When was the last time you offered your hubby some help before he asked you for it? Ask him what would make his day today and then be sure to help him make it happen.
Day 4 – February 17th:  Thank him. Is there something your husband always does that comes as second nature? Maybe he's the one who always cooks, or he always collects the trash, or makes sure you get some time in with your girlfriends. Whatever it is, be sure to thank him specifically for that thing.
Day 5 – February 18th:  Show your husband some love. But show him in the love language that he prefers. Have him take the quiz if you're not sure. Understanding my husband's love language was a huge eye opener for me.
Day 6 – February 19th:  Flirt. Remember how you used to tease and flirt with your man before you got married? Get back to your high school/college flirty girl kinda days. Ask him to choose your bra & panty set for the day, whisper sweet nothings in his ear, or touch him where/how you know he likes to be touched. The sky is the limit.
Day 7 – February 20th:  Kiss. The focus today is on kissing, so kiss like you did before you were married. Let's see if you can get all 25 of these kisses in today.
Week 2
Day 8 – February 21st:  Ask for his opinion. Yes, your tastes may differ and you may not always like what he has to say about certain things. But take a few minutes to ask his guidance on an important decision or project you're working on.
Day 9 – February 22nd:  Pray for him. Is there something you wish for your husband? Is there something he could do to improve your marriage? Do you wish he would go get his physical or tell you he loved you more? Today, don't tell him (or in his opinion, nag him). Just put it in prayer.
Day 10 – February 23rd:  Slow dance. Get out your wedding song, and when he least expects it, turn it on and take him by the hand. Be in the moment and reminisce on the day you exchanged vows. Put it on and repeat if you have to.
Day 11 – February 24th:  His wish is your command. What is one hobby your husband enjoys that you don't necessarily care for? Today, put your feelings aside and surprise him with his favorite hobby.
Day 12 – February 25th:  Cook his favorite dish. And if you don't cook, take him to his favorite restaurant. But you get to decide what's for dessert *wink*
Day 13 – February 26th:  Listen. No, really listen. Anytime your husband is speaking to you today, stop everything you're doing and give him your undivided attention (yes that means stop tweeting, writing and checking Facebook messages).
Day 14 – February 27th:  Text him. Send him a sweet text or picture message several times throughout the day (especially if you're away from each other).
Week 3
Day 15 – February 28th:  Laugh. Laughter really is the best medicine. Find opportunities throughout the day to spend time laughing with your husband.
Day 16 – March 1st:  Talk to him. Use this day to share with your spouse any new dreams you have, and ask him about his.
Day 17 – March 2nd:  Have you taken any boudoir pictures yet? If not, find a place to make an appointment to get them done today, then surprise him with a photo book full of your glamor shots.
Day 18 – March 3rd:  Give. Today, focus on giving. Whether it's an actual gift (big or small) or service, Give him a massage, a head rub, a gadget or maybe even just you. *wink*
Day 19 – March 4th:  Workout together. Go to a gym or workout at home. Go for a walk or jog, or play a sport together. Get moving together and enjoy the cool down together too.
Day 20 – March 5th:  Plan a surprise date night. Is there a movie you've been wanting to watch or a new restaurant you've been wanting to check out? Make it happen tonight.
Day 21 – March 6th:  Compliment your spouse and shower him with words of praises. Let him know how much you admire him.
It doesn't matter where you start in the challenge or how many times you go through each challenge. Just do it and enjoy the moments. And be sure to invite other happy wives to join in the challenge with you.
Will you be joining the challenge?
##
JOIN THE 1,000,000 MEMBER CHALLENGE: If you haven't already done it, what are you waiting for? Join the club! It takes only a few seconds and, of course, is free.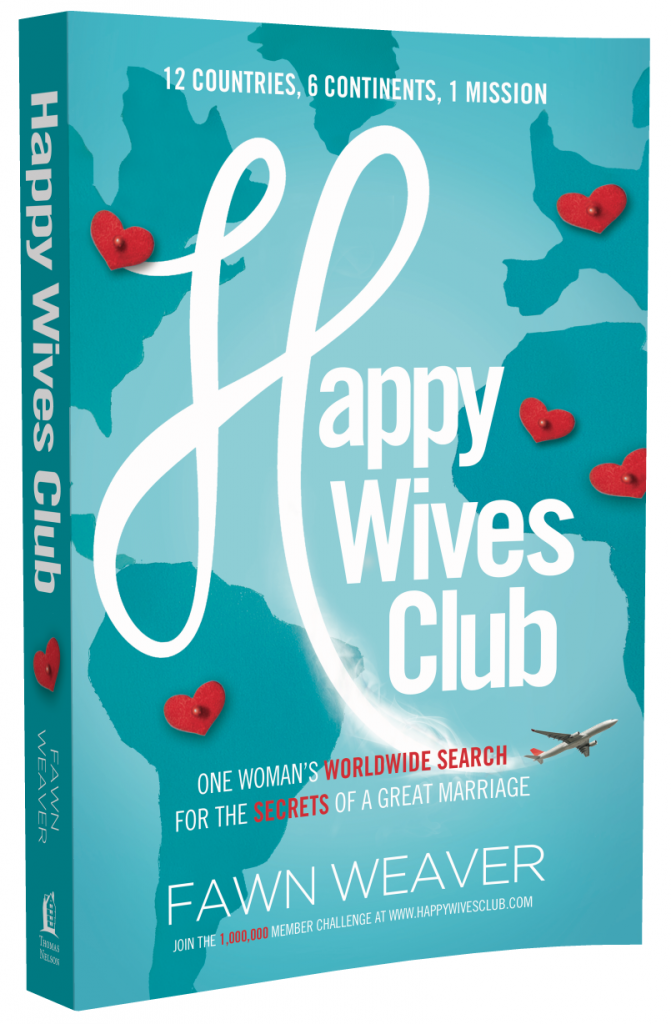 THE NEW YORK TIMES® BEST-SELLING BOOK: It's been described as, "Like Eat, Pray, Love but not down on marriage." Make sure to check out the Happy Wives Club book.  I had the great honor of traveling to 12 countries on 6 continents, interviewing couples happily married 25 years or more, with 1 mission only: to find out what makes marriages happy…and keeps them that way.  It's a marriage book like none other.  Guaranteed.
Christine St.Vil is co-author of the
Whose Shoes Are Your Wearing: 12 Steps to Uncovering the Woman You Really Want to Be
. A happy wife to an amazing hubby of 8 years, and homeschooling mother of three, she teaches moms how to FLY (First Love Yourself). She uses her corporate background to work with women who are ready to start a new business, accelerate their career growth & design a life they love. She's on a mission to help moms to battle the mom guilt epidemic, so they can begin to put themselves first on their never-ending list of priorities. Sign up at
MomsNCharge.com
for her FREE audio: 8 Ways to Get Your FLY Back - The Super Simple Guide for Busy Moms to FLY (First Love Yourself).
Latest posts by Christine St. Vil (see all)
Related Posts
13
By
Maggie ReyesMaggie Reyes
May 21, 2017
The Marriage Effect: How Being Married Makes You Happier & How to Keep It That Way
45
By
Christine St. VilChristine St. Vil
January 16, 2016
8 Essential Keys to Being a Happy Wife
47
By
Maggie ReyesMaggie Reyes
February 12, 2015
7 Habits of Highly Happy Marriages
Recent Posts
By
Fawn Weaver
November 12, 2017
Top 5 Regrets From the Dying: An Inspirational Article For Us All
By
Fawn Weaver
October 19, 2017
How to Protect Your Marriage During Challenging Times
By
Fawn Weaver
September 16, 2017
5 Unique Ways to Make Your Man Feel Special in 5 Minutes or Less