Top 20 Springtime Dates on the Web
"Spring is nature's way of saying, 'Let's party!'"         -Robin Williams
It's that time again. Spring is officially around the corner. If you have allergies that flair like I do, that's your first indication. For others, maybe you woke up this morning and realized that you lost an hour of sleep when daylight savings time officially began.  
The ice has melted in the coldest cities in the country and the torrential downpours that plagued many states in the winter have begun to make way for fresh flowers beginning to bloom.
For every season, there are fun and creative ways to enjoy a little "us time" and I always have a blast putting these sorts of lists together. 
So without further ado, here are the Top 20 Springtime Dates on the Web:
1. Tour Your City I don't know about you but my city looks a lot different in the winter than it does in the summer. On our ranch, our peach tree has just begun to bloom and it's one of the favorite things to wake up to in the morning. The orange, lemon and kumquat trees are starting to get full (and Keith and I have to get out there and pull the fruit before all the fabulous squirrels devour them).
It's not just the area immediately around you that's changing…it's every place where there's a little plant life. Get out there and enjoy the changing season.
2. Fruit Tasting. Enjoy fruits…actually in season. I must admit, if I could eat honeycrisp apples year-round, I most certainly would. But I also know it's unlikely they are naturally growing all year long without a little…ahem…help. How do you know what fruits are actually in season? Almost every Saturday and Sunday, around the country, thousands of farmer's markets pop up to satiate every one of our taste buds (including a handful of them within a few miles of our home). My husband and I love strolling through the aisles and discovering new tasty treats. 
3. Exercise alfresco (via Shape). Have you been inside most of the winter? Maybe even hiding under a few layers of clothing. Grab your honey and head outside. Here are 8 great date ideas for getting active outside…and none of them require a lot of sweat. Need help getting motivated?  Here's a few simple ways
4. Have a breakfast picnic.  So romantic!  I'd never even thought about this but it makes so much sense.  Hardly anyone is out early at the local parks and you'll enjoy the lovely light of morning as you sip your steamy lattes, munch on some fruit, take a stroll or just sit around and smooch.  ("One thing to remember," Kris "Kroll" Woods who submitted this idea when asked about favorite spingtime date ideas on our community Facebook page, "The ground is dewy, so plan ahead for shoes, towel for the table, etc.)
5. Join the worldwide hunt for treasure. (via The Nest)  Geocaching is a worldwide game of hiding and seeking treasure. A geocacher can place a geocache anywhere in the world (think: the middle of the forest or top of the Empire State Building) and pinpoint its location using GPS technology, and then share the geocache's location online. All you need to get started are a GPS device and the whereabouts of a "treasure" listed on the website.
6. Got a pickup truck?  Make some good use out of it! Load it up with tons of hay (if you have some available), sleeping bags, some snacks and a bottle of wine.  Lay down the tailgate and just enjoy looking up at the stars and talking. And if there is a spring concert series nearby, why not pull your truck right up to that?
7. Spring break for adults (via Care2.com)  It's not just for college students anymore—bust out of the winter doldrums by hitting a beach destination for some much-needed relaxation (and romance). If you don't have the time or funds to go anywhere exotic, look up long weekend trips an hour or two away from home. You don't have to travel far to get the benefits of getting away from it all.
8. Enjoy nature's real confetti.  Sit beneath a full bloom sakura tree and enjoy simply being.  When one of our Japanese HWC members submitted this idea, I must admit, I had to look up what sakuras were and if we also have them in the States.  And alas, they are cherry blossom trees.  Yes, we have plenty of those.  But if you aren't in a city where you can find some, choose any tree newly bloomed and enjoy it's amazing wonder.  Speaking of which…
9. Visit to the Gardens (via About.com)  Spring is the perfect time to stop by your local botanical gardens or any gardens or parks that are open to the public to observe and appreciate the flowers and plants that are coming back to life after the winter. Be sure to actually smell the roses together and hold hands while you walk or stroll. Take in the scene and take pictures to boot. After all, nature makes for a beautiful backdrop. 
10. Go Ape!  Who knew there was zip lines and treetop adventures all over the US.  Christina Paul, who submitted this idea, said she and her husband did it though GoApe.com and had a blast!  If you're not in any one of the cities where they're located, here are another 10 great zip lines across the US.
11. Build a Campfire in Your Backyard (via Happy Wives Club)  I know I recently recommended this one from my Fun Dare: 12 Dates in 12 Days post but I couldn't leave it off this Top 20 Springtime Dates list.
12. Get in on the March Madness!  Start a couples pool for spring's biggest basketball challenge.  Maybe because I love sports but I wanted to do it the moment I read this suggestion by Joy Turner Washburn, "It's so fun picking teams and keeping track of the games (Sweet Sixteen, Elite Eight, Final Four).  We have a personal party on the night of the championship game."  And what's a better way to celebrate a huge win than…sex…or chocolate…or champagne.  Better yet, how about all three?!
13. Become a wine connoisseur in four easy steps (via LearnVest).  Ever wonder what people are doing when they're sniffing or swirling their wine around in the glass, looking to see if it's got "legs"?  Well, wonder no more.  Make this a fun hobby to pick up for the Spring and well before the summer you'll be sniffing, swirling, swishing and tasting like a pro.
14. Pick a book of the season.  How often do you and your spouse read a book together?  Do you like fiction?  Does he like nonfiction?  Does he like sci-fi while you like romance?  What about finding a book you both will love?  Of course, I'd recommend the Happy Wives Club, but I'm pretty biased.  And don't let the name fool you.  Men love this book just as much as women.
15. Get Dirty (via HuffPost). Cleaning your house doesn't exactly sound sexy, but hear us out. In the middle of scrubbing down walls, dusting cobwebs out of corners, and moving furniture, there's a lot of silence in which to bring up unspoken issues between you two. You can also share intimate details about each other you might not have otherwise organically brought up and goals for the relationship. Doesn't every relationship need some spring cleaning of its own too? Think of the ways you can reward each other for an afternoon's hard work: "If we can clean up now, we can get a little dirty later." (Wink-wink.)
16. Kick back in your own homemade hammock.  Seriously, what's more relaxing than laying next to your favorite person in the world as the net beneath you keeps you closer than close?  Do you have a porch or trees close enough to hang a hammock?  If so, spend a couple hours making one together, then grab some freshly brewed iced tea, and enjoy the fruits of your labor.
17. In with the new. (via Care2.com)  Pick an activity that's new to both of you, and spend the season working on it together. Take rock-climbing classes, train for a half-marathon together, or sign up for a dance class. You'll bond over being beginners and push each other to get better. Plus, a recent study even showers that adding an element of surprise into a relationship can trigger the same emotional state you were both in when you first met, getting back all those lovey-dovey feelings.
18. Easter egg hunt comes early – or late.  This fabulous idea submitted by Shelly Massie will take a little bit of creativity and planning.  Set up the picnic ahead of time and have eggs hidden all over the backyard (park or any other place with plenty of trees).  But these aren't just any kind of eggs, they're love note eggs (via Dating Divas).  As your husband finds they hidden eggs, they will open them to a sweet surprise: Your love, appreciate and acknowledgment that he's the best.   
19. Let Your Hearts Be All A-Flutter (via HuffPost).  He gives you butterflies in your stomach and you'd like to show just how he makes you feel without being too cheesy — so why not visit a butterfly conservatory? These sanctuaries are indoor living environments specially designed for butterflies to flourish. Just imagine strolling hand-in-hand along meandering paths in the greenhouse, admiring the beds of lush greenery and blossoms, with hundreds of colorful butterflies fluttering freely in the air around you. It's the perfect picture of springtime romance.
20. Serenity by the water.  No matter where you live, there's a body of water somewhere: ocean, marina, lake, stream – find it.  Enjoy it.  Create your very own still point in a turning world.  Lake with fish nearby?  Grab some fishing wire and a hook (or if you have no idea what you're doing, like me, just buy a fishing pole).  Some of the best fish come out at spring so just drop a line, he'll skin, you cook (or in my case, the Hubs would rather skin and cook), and you've just wrapped up a perfect spring day.
QUESTION: What's your favorite springtime date ideas?  (Share them on our community Facebook page and let's make sure we keep love in the air all spring long.)
Until Monday…make it a great weekend!

JOIN THE 1,000,000 MEMBER CHALLENGE: If you haven't already done it, what are you waiting for? Join the club! It takes only a few seconds and, of course, is free.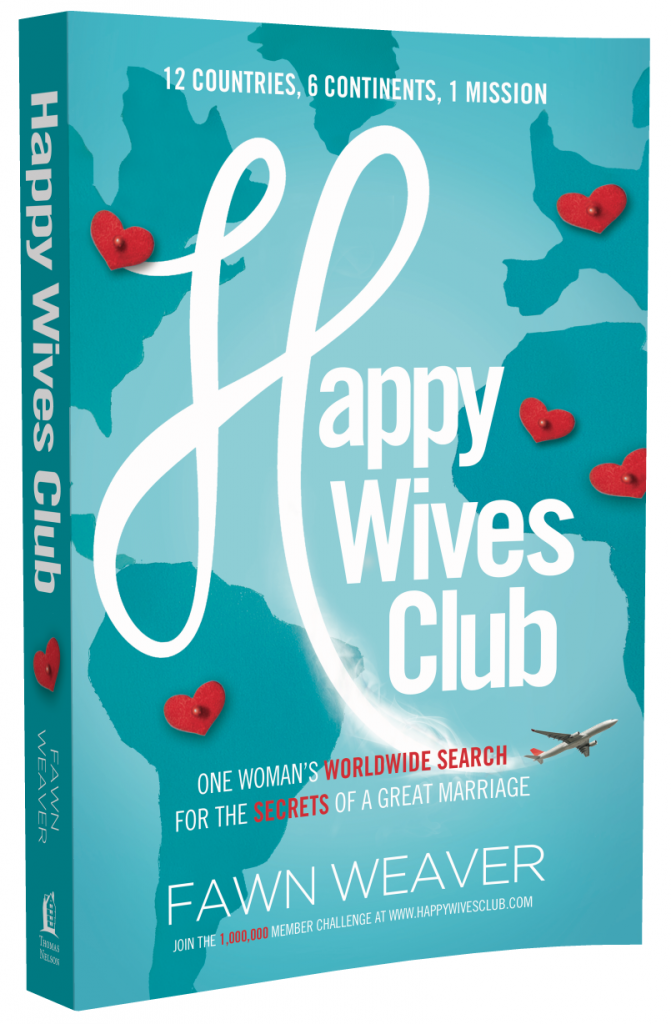 THE NEW YORK TIMES® BEST-SELLING BOOK: It's been described as, "Like Eat, Pray, Love but not down on marriage." Make sure to check out the Happy Wives Club book.  I had the great honor of traveling to 12 countries on 6 continents, interviewing couples happily married 25 years or more, with 1 mission only: to find out what makes marriages happy…and keeps them that way.  It's a marriage book like none other.  Guaranteed.
Fawn Weaver is the USA Today and New York Times bestselling author of
Happy Wives Club: One Woman's Worldwide Search for the Secrets of a Great Marriage
, adopting the same name as the Club she founded in 2010. The Happy Wives Club community has grown to include more than 1 million women in over 110 countries around the world. She's an investor in real estate, tech sector and lifestyle brands. When she's not writing or working, she's happily doting over her husband of twelve years, Keith (and sometimes manages to do all three simultaneously).
Latest posts by Fawn Weaver (see all)
Related Posts
4
By
Fawn WeaverFawn Weaver
November 12, 2017
Top 5 Regrets From the Dying: An Inspirational Article For Us All
43
By
Fawn WeaverFawn Weaver
October 19, 2017
How to Protect Your Marriage During Challenging Times
35
By
Fawn WeaverFawn Weaver
September 16, 2017
5 Unique Ways to Make Your Man Feel Special in 5 Minutes or Less
Recent Posts
By
Fawn Weaver
November 12, 2017
Top 5 Regrets From the Dying: An Inspirational Article For Us All
By
Fawn Weaver
October 19, 2017
How to Protect Your Marriage During Challenging Times
By
Fawn Weaver
September 16, 2017
5 Unique Ways to Make Your Man Feel Special in 5 Minutes or Less