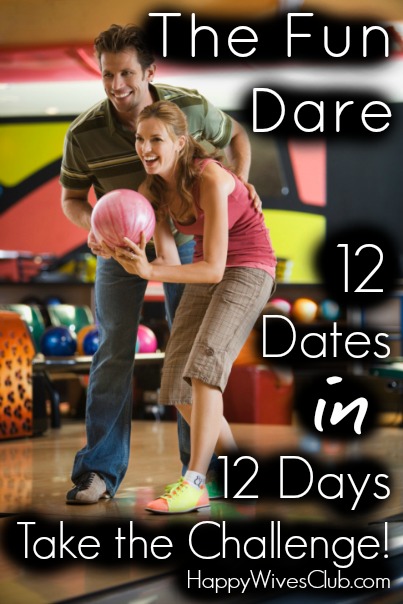 The Fun Dare: 12 Dates in 12 Days
Have you ever thought to yourself, "I'd love to have a date night but just don't have the time"?  If you've uttered those words over the past four weeks I want to challenge you to The Fun Dare!
You can make up for all those date nights you haven't had -in less than two weeks.  The dates don't have to be complicated and can all be at home.  The important thing is you set aside the time to do it.
Don't worry, we'll supply the date ideas.
Think of this as The Twelve Days of Christmas with your fabulous spouse (minus the drummers drumming, pipers piping and the maids-a-milking) and open up a fabulous new date daily for 12 days.
The important thing with The Fun Dare is to block 12 consecutive days off your calendar (or one day a week for 12 weeks if the consecutive days just aren't possible) and treat your spouse to the time of their life.
Are you ready to take on the challenge?
Here we go.  Ready.  Set.  Date!
Day 1: Take Dance Lessons.  Yes, you! Don't go expecting to be on next season's So You Think You Can Dance, but use this as a great kick off to your Fun Dare.  It's the perfect way to get up close and personal while burning some calories together!  
Sign up at a local community center for free, find a nearby dance school, or my favorite: Type in "Learn to Dance" on YouTube and pick a video.  From ballroom to hip hop to salsa, you can learn it all for free in the comfort of your own home.
Day 2: Create a Homemade Spa. The simplest, most relaxing date ever.  And after your night of dancing, you might need it!  Pick up some lightly scented candles (lavender is a good choice), a CD with tranquil music and a bit of oil for your couple massages.  Fill the bathtub with warm water and bubbles and treat one another to a nice soak followed by a relaxing massage.  If you're feeling adventurous, you can try giving each other facials or scrubs.  And if you're really feeling generous, give each other manicures and pedicures.
Day 3: Play Librarian.  It's not Halloween so don't go pulling out your "sexy librarian" costume.  Drive to your local library and once inside, walk up and down the aisles looking for books that remind you of your school years.  Bring as many back to the table and share with each other your various stories of why each book made an impression on you.  Books, like music, have a funny way of sending us down memory lane.  And your spouse will love learning even more about you.
Day 4: Exchange New Marriage Vows. There is something incredibly sacred about vowing to love one another til' death do you part. And the many commitments between your first words and that final line are something worth celebrating.  Sit across from each other and set the timer for 60 minutes.  You can use a dictionary, the computer, and anything else that will inspire you to write the best vows.  After they're done, spend time reading it to one another and then toast with a glass of champagne (or apple cider).
Day 5: Build a Campfire in Your Backyard.  One of my dear friends rented a home for more than 10 years and I'm convinced the reason she loved it there so much was the fire pit she built in the backyard.  Don't worry, the grass will grow back!  But even more likely, you won't want it to.  Camille and her hubby built their own and I also found this great tutorial online by Debbie Graney.
Once you're done, grab a couple chocolate bars, some graham crackers and marshmallows and celebrate all your hard work with freshly made S'mores.  And if you happen to do this at night, don't forget to look up.  Stargazing together is about as romantic as romantic gets.
Day 6: Game Night Circa 1990.  What board games were you playing 23 years ago?  If you or your spouse are too young to remember, change the "circa" to any year you'd like.  We know those board games exist somewhere.  In the attic, maybe the closet or basement.  Wherever they are, break them out and enjoy game night like you're kids again.  And if you're up for it, try a sexy game night (definitely put the kids to bed for this one
).
Day 7: Get Fancy!  Host a Wine and Cheese Night for Two.  You would be amazed at the great wines being sold these days for less than $10 per bottle.  Couple that with some delicious cheeses sold in the deli section of your local grocery store and you're ready for an awesome date night at home.  Don't worry about buying one of the fancy trays to display the cheese, your chopping block will do do the trick.
Day 8: Become a Connoisseur.  Pick something.  Anything that interest you.  And become a connoisseur.  For Keith's 39th birthday, we became of connoisseurs of…tamales!  I looked up reviews for every place in the Los Angeles area that served tamales and then went to the eight with the best reviews.  We even invited family to join us at a few of the stops. For 8 hours, we drove from north to south and east to west in search of the best tamales in town (and this is a big town).   
Day 9: Don't Stop Til' You Drop.  Find a coupon online (Living Social, Groupon, Amazon Local, etc) for a trendy new workout and jump right in.  Spinning and power yoga combined (mine and hubby's favorite), Crunch Fitness, indoor surfing, CrossFit – there's never a shortage of the workout studios cropping up all over town.  And if, by chance, you can't find one with a discount coupon (or even better, a "try your first class free" offer), or if the kiddos make it tough to leave the house, find a workout video or instructional online that will make you sweat.  
There's nothing like panting with your partner after a good workout and barely mustering the energy to give each other a high five.  Good times!
Day 10: Start a Home Improvement Project.  What one thing in your home would you and your spouse both enjoy fixing up?  Maybe paint a room a new color, build a bird house, create a couple's collage, or stain the hardwood floors.  Whatever you do, just remember the operative phrase here is "both enjoy."  
Day 11: Enjoy a Movie in the Open Air.  Did you know there are still hundreds of drive-in theaters all around the US?  Thank goodness, this style of movie watching didn't die with Grease.  Park your car, lean your seat back and enjoy a movie with you honey (popcorn fight and all).  Need a stay-at-home version of this date?  Pitch a tent in your living room, bring the television inside, and then snuggle under a blanket while watching your favorite movie on DVD.
Day 12: Check Something Off Your Bucket List.  You and your spouse both have bucket lists, don't you?  Well, find something on there that's doable for you both to do and help cross one thing off each of your bucket lists…together.  I can't think of a better way to end your Fun Dare than with helping one another fill one of your lifelong goals.
(MOMS: Have no fear, parent-friendly modifications can easily be made. And if you have young ones at home and need more ideas that allow you stay close to your little ones, try our Top 20 Stay-At-Home Date Night Ideas.  Also, check out the this post with tips from Annett Davis who gives a great tip on how you and your husband can take this challenge (it's called "kids swap").
QUESTION: So tell us, are you going to take the challenge?  What do you think will be your first date? (Share your response on our community Facebook page with over 1 million members.)
P.S. If you have an anniversary coming up, this is a FANTASTIC gift to give your husband.  Begin your anniversary twelve days early and save your best date for last.
Until tomorrow…make it a great day!

JOIN THE 1,000,000 MEMBER CHALLENGE: If you haven't already done it, what are you waiting for? Join the club! It takes only a few seconds and, of course, is free.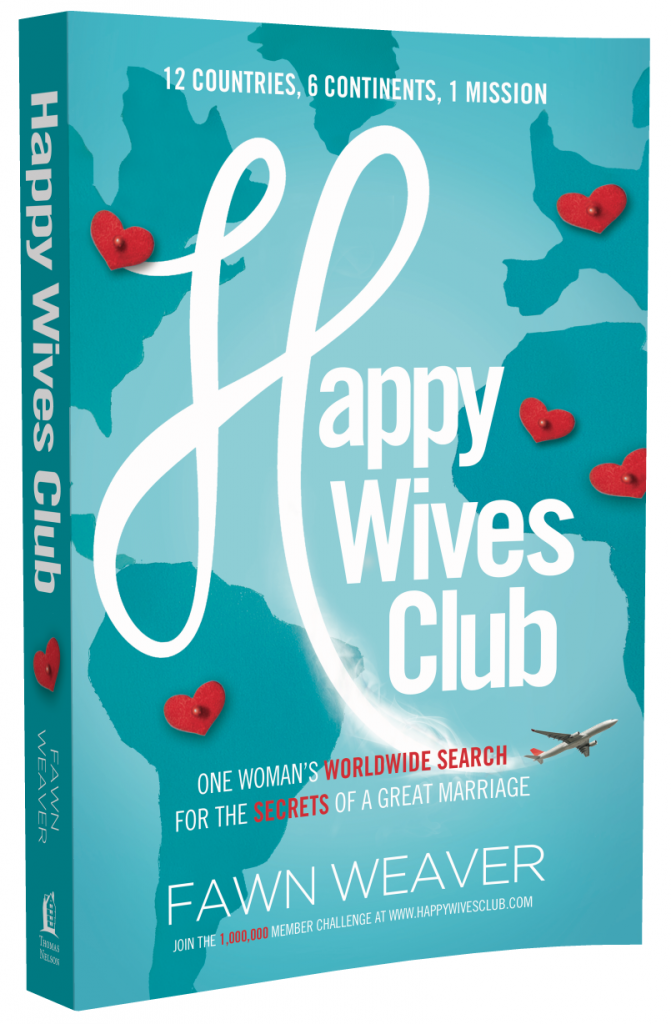 THE NEW YORK TIMES® BEST-SELLING BOOK: It's been described as, "Like Eat, Pray, Love but not down on marriage." Make sure to check out the Happy Wives Club book.  I had the great honor of traveling to 12 countries on 6 continents, interviewing couples happily married 25 years or more, with 1 mission only: to find out what makes marriages happy…and keeps them that way.  It's a marriage book like none other.  Guaranteed.
Fawn Weaver is the USA Today and New York Times bestselling author of
Happy Wives Club: One Woman's Worldwide Search for the Secrets of a Great Marriage
, adopting the same name as the Club she founded in 2010. The Happy Wives Club community has grown to include more than 1 million women in over 110 countries around the world. She's an investor in real estate, tech sector and lifestyle brands. When she's not writing or working, she's happily doting over her husband of twelve years, Keith (and sometimes manages to do all three simultaneously).
Latest posts by Fawn Weaver (see all)
Related Posts
4
By
Annett DavisAnnett Davis
March 8, 2017
How to Make Date Nights Happen When You're Parents: Kid Swap!!
2
By
Morgan SimsMorgan Sims
January 18, 2016
9 Date Ideas That Won't Break the Bank
20
By
Fawn WeaverFawn Weaver
February 24, 2015
Top 20 Stay-At-Home Date Night Ideas
Recent Posts
By
Fawn Weaver
November 12, 2017
Top 5 Regrets From the Dying: An Inspirational Article For Us All
By
Fawn Weaver
October 19, 2017
How to Protect Your Marriage During Challenging Times
By
Fawn Weaver
September 16, 2017
5 Unique Ways to Make Your Man Feel Special in 5 Minutes or Less