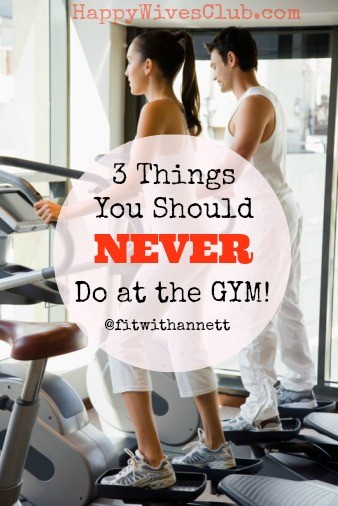 3 Things You Should Never Do at the Gym
Many women love to go to the gym.  Personally, even though I'm a world class athlete, an Olympian, it's funny but I hate the gym.
I prefer working out at home. My home gym never closes, it's free, and there's never a line for my equipment.  But, that's just me.
Friends of mine absolutely love working out at the gym. They like people watching, taking classes with big groups of people, and getting out of the house.  I completely understand.
This post is for people like you.
As an athlete with over 20 years experience working out in the gym, and now as a virtual fitness coach, I have learned how to have a successful workout in the gym.
More often than not, I see men and women trying to lose weight who have been at the gym for years having zero success.
Why?
Because they just don't know any better. I'm here to help you out, so you finally can reach your goals.
3 Things You Should Never Do at the Gym
1.  Cardio, Cardio, Cardio! 
This is a BIG no-no especially for women.  I can't tell you how many times I go to the gym and see women hop on the treadmill, bike, or elliptical machine and hop off and leave the gym. It makes me want to scream, "Get over here Missy, there's an entire world here that you're missing!"  Everyone needs to condition their heart, to get their blood pumping, sure, but we also need to included strength training.
The number one question I get asked is, "If I lift weights, will I get big? Will I bulk up??" NO! You'll gain lean muscle, you will not bulk up (99% of the time). Not only will you decrease your chances of osteoporosis, strength training has many other benefits. When you do a cardio workout, as soon as you stop, your calorie burn stops. But when you weight train, your body continues to burn calories well after you put the weights down. That's reason enough isn't it?
2.  The Same Old Thing!
Most people tend to be creatures of habit.  When they go to the gym they tend to do the same exercises over and over again.  Sometimes it's because of lack of knowledge (being afraid to try new things).  Other times it's because they truly just love what they are currently doing.
You never want to go to the gym and do the same old thing. Why? Because your body gets used to it. Variety is not only the spice of life, it makes a difference when trying to reach your goals.  Mix up your workouts for optimal results.  One day do upper body strength training, another day elliptical, the next day lower body exercises, and finally a day of Zumba, for instance.  The next week do something radically different. Maybe try yoga, a boot camp class, and of course 2 strength training workouts that were completely different from the week before.
3.  Leave Your Mind At Home!
Sure your time at the gym can be your little getaway from reality, an escape, "your time".  But, if you aren't fully invested you won't get results.  Being at the gym with friends is fun, but if you can easily carry on a conversation with your girlfriend or husband while you are on the treadmill you are not working hard enough.
You must never leave your mind at home.  Not only should your body be engaged, but your mind also.  When you are lifting weights you should be thinking through the correct positions of the move, focusing on your muscle. While on the yoga mat, your mind should be engaged thinking through the positions, making sure your poses are as close to perfect as you can get it.  Same with other workouts.
If you remember one thing from this post remember this…
The magic happens just outside of your comfort zone. 
Right outside of your comfort zone is where transformation takes place. This is the place you want to be physically and mentally when you are in the gym.  If you aren't in this place, you may as well stay home, because you are wasting your time.
Next time you go the gym be fully engaged, try new things, and add strength training to your routine.
Make it a Healthy Day-
Annett Davis -visit me @FitMomsFitKidsClub.com
Annett Davis is an Olympian in Beach Volleyball. She loves great food and helping people get healthy over at
GetFitWithAnnett.com
. Her favorite topics are marriage and anything fitness related. Being married to her soul mate, Life Coach and author Byron Davis for 16 wonderful years, Annett loves being a homeschooling mom of 2. She blogs over at
FitMomsFitKidsClub.com
, and inspires kids to grandmas to get in shape for life in her private accountability groups.
Latest posts by Annett Davis (see all)
Related Posts
0
By
adminadmin
May 18, 2014
What to Eat to Get Swimsuit Ready
1
By
Annett DavisAnnett Davis
December 31, 2013
6 Tips to Help You Reach Your New Year's Weight Loss Goals
2
By
Annett DavisAnnett Davis
December 15, 2013
3 Secrets to Avoid Holiday Weight Gain
Recent Posts
By
Fawn Weaver
November 12, 2017
Top 5 Regrets From the Dying: An Inspirational Article For Us All
By
Fawn Weaver
October 19, 2017
How to Protect Your Marriage During Challenging Times
By
Fawn Weaver
September 16, 2017
5 Unique Ways to Make Your Man Feel Special in 5 Minutes or Less