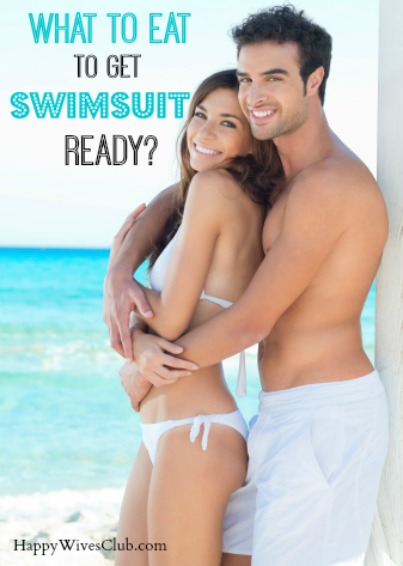 What to Eat to Get Swimsuit Ready
Summer is fast approaching isn't it?
Are you ready or are you still a bit worried about putting on your swimsuit?
Don't worry, with a plan and some dedication you can start shedding pounds this week!
Upon completing my career as an Olympian and Pro Beach Volleyball player, I've become a virtual Beachbody fitness coach helping tons of people drop pounds and more importantly get healthy. I've found that it's a LOT easier than you think. 
I have tons of personal experience of gaining an extra 10lbs during the winter and having to lose it all to get into bikini shape for the summer, and I'd love to tell you some of my secrets.
Here's my tips to dropping weight quickly, and keeping them off. 
Get Swimsuit Ready Now!
1. Drink water!  This is an easy one.  Replace all your drinks during the day with water. Sure you can drink 1 coffee a day (without all of the extra sweeteners, and creamers without the chemicals in them), or you may have herbal tea as well (without sugar). Drink at least 1/2 your body weight in ounces a day.
2. Drink your Breakfast.  This may sound a little weird. But, as a homeschooling mom of two, busy and on the go often, drinking my breakfast works for me. Some mornings I go with a green smoothie.  But, most days I drink Shakeology which is a superfood packed meal replacement shake in which I get most of my daily vitamin needs. By drinking my breakfast I ensure that I get the most important meal of the day checked off, and I am more apt to eating better the rest of the day since I began with a healthy choice.
3. Salad for lunch.  After having a healthy smoothie or shake for breakfast, a HUGE green salad will fill you up for lunch.  Prepare a salad with 2 cups of mixed greens (not iceberg lettuce), 3-4 oz of lean protein (chicken, tuna, salmon, turkey, even lean sirloin steak sometimes), tons of veggies (carrots, cucumbers, tomatoes, fresh herbs), 1 TBS of seeds and nuts (pepitas, sunflowers, walnuts, almonds),  and 2 TBS of a homemade oil and vinegar based salad dressing.
4.  Green snack only. I have two favorite snacks – a green juice or veggies and hummus. Either will do when getting swimsuit ready.  A plate full of chopped veggies served with 2 TBS of homemade hummus (which takes seconds to make in a blender) or a tall glass of green juice is your go to snack. You can even start your journey with a 3-day juice cleanse.
5.  LPVG for dinner.  What's that? It's easy. Lean protein, veggies, and greens with the occasional grain (if you aren't sensitive to them).  Dinner doesn't have to be difficult. Just prepare a lean protein (fish, chicken, turkey, or lean beef sometimes) and make sure the other three-quarters of your plate is colorful. I love to have two veggies, or a veggie like steamed broccoli and a green perhaps kale or garlic spinach to round out my meal.
Another tip to make sure you get more greens and veggies into your day is to have another small mixed salad with your dinner. As for other 'sides', quinoa, brown or wild rice, beans, whole wheat couscous are all good choices, just keep your portions down to about 1/2 a cup per.  Use as many fresh herbs as you like, cut back on the salt (I use pink Himalayan sea salt) and you'll have delicious flavorful food.
It's really not as difficult as you may think to eat clean and drop pounds. This simple formula should have you swimsuit ready faster than you think. Don't forget to fit in 5 days a week of exercise, and you'll be golden! Let me know if you have any questions, or need help. I love to help.
I'd love to hear below, what do you do to get swimsuit ready?
Related Posts
2
By
Annett DavisAnnett Davis
January 26, 2014
3 Things You Should Never Do at the Gym
1
By
Annett DavisAnnett Davis
December 31, 2013
6 Tips to Help You Reach Your New Year's Weight Loss Goals
2
By
Annett DavisAnnett Davis
December 15, 2013
3 Secrets to Avoid Holiday Weight Gain
Recent Posts
By
Fawn Weaver
November 12, 2017
Top 5 Regrets From the Dying: An Inspirational Article For Us All
By
Fawn Weaver
October 19, 2017
How to Protect Your Marriage During Challenging Times
By
Fawn Weaver
September 16, 2017
5 Unique Ways to Make Your Man Feel Special in 5 Minutes or Less