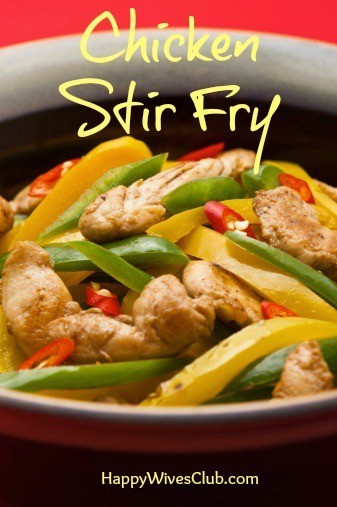 Easy Chicken Stir Fry
My dad went to culinary arts school. So growing up I had a chance to taste all sorts of creations! 
When I got married and started cooking for my husband (at the time I could NOT cook) and we had some adventures. I tried simple recipes. After awhile I started making and mixing my own stuff. This has been a slow process simply because I am a busy woman! I have things to do besides slave over a complicated recipe… oh did I mention I am not that patient?

So a couple weeks ago I made a dish.. from scratch! It was SO easy! I had to share with all you other busy women out there! (Also this was my VERY FIRST time cooking with ginger! I loved it)
Easy Chicken Stir Fry
Ingredients:
2 boneless chicken breast
1 bag of minute rice / instant / boil in a bag
2 green peppers or red peppers
1 large onion, diced
Vegetable or Olive oil
Salt
ginger powder
garlic powder
soy sauce
Chicken
Preheat oven to 425. Cut chicken breast into strips. Season chicken with salt, ginger powder, and garlic powder. Sprinkle evenly across the chicken. I did not measure this. Just eyeballed it

Cook the chicken until done. Then cut into bite sized chunks. 
Vegetables
Cut the peppers and onion into strips. Then heat up a skillet or frying pan to medium heat with a little oil. I didn't measure the oil, but my guess is that it was about 3-4 tablespoons. Add 1-2 tablespoons of ginger and 1 tablespoon garlic powder. Saute with the onions and peppers (when the onions are clear they are done). 
OK, now I had some instant rice because that is the extent of my talent with rice

I followed directions on box. 
Add the chicken to the veggie pan. Add 2 tablespoons of soy sauce. Thoroughly mix into the rice. 
Viola! You have a healthy, yummy dinner!! 
Disclaimer: I made this portion for just the two of us, so you may want to add more if your cook for a larger family. Also add or take away spices for your families taste buds. Feel free to add more veggies if you want (carrots, snow peas, red onions, water chestnuts, or broccoli). I used what I had on hand. If you have fresh garlic and ginger, use it. It will make it even better!!!

Love,
Aunt LaLa
Employment Facilitator, Student, and blogger
Passionate about her marriage! Loves to encourage wives in their marriages. Juggles being a student, a working woman, being a wife, and Aunt LaLa to her niece and nephews. Loves blogging about life, marriage, infertility, and her faith.
Latest posts by Aunt LaLa (see all)
Related Posts
0
By
Annett DavisAnnett Davis
September 27, 2015
Creamy Garlic Salad Dressing
2
By
Aunt LaLaAunt LaLa
August 15, 2015
Aunt Vivian's Chicken in White Wine Sauce
3
By
Tammy GreeneTammy Greene
May 8, 2014
Cinnamon Sugar Almonds
Recent Posts
By
Fawn Weaver
November 12, 2017
Top 5 Regrets From the Dying: An Inspirational Article For Us All
By
Fawn Weaver
October 19, 2017
How to Protect Your Marriage During Challenging Times
By
Fawn Weaver
September 16, 2017
5 Unique Ways to Make Your Man Feel Special in 5 Minutes or Less