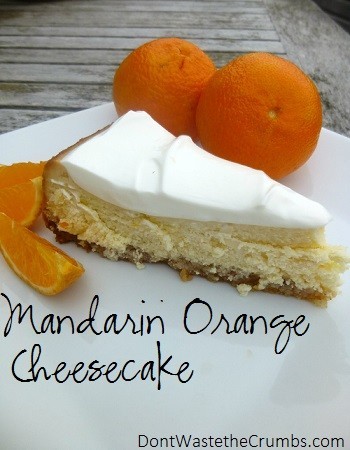 Mandarin Orange Cheesecake
Every wife should have a stash of "go-to" recipes she can make for whenever a certain occasion arises.
The one recipe that I believe trumps all other recipes in the arsenal is the cheesecake. This light, creamy dessert compliments all genres of food and pleases nearly every palate.
Crusts can range from crushed cookies to chopped nuts or skipped altogether.  Fillings can be "classic" or dressed up for a unique twist.  Toppings can be thin, thick, mixed with the batter or left off for a strawberry puree topping instead.
After many failed attempts, this mandarin orange cheesecake is a simple variation of my official go-to recipe.
With two minor changes, this can become a delicate vanilla bean cheesecake.  A slightly different swap creates a strawberry key lime cheesecake.  The substitutions are easy and limitless, making this the perfect cheesecake to add to your collection.
Mandarin Orange Cheesecake
Crust
1 cup nuts (any combination)
2 Tbsp butter, melted
Filling
24 oz full-fat cream cheese, room temperature
1 cup granulated sugar
2 large eggs, room temperature
4 mandarin oranges, zested and juiced*
Topping
1 cup full-fat sour cream
1/4 cup granulated sugar
Preheat the oven to 350 degrees.  Butter and lightly flour the bottom and sides of a 9″ springform pan.
In a food processor, pulse nuts until finely chopped.  Add melted butter and pulse until ingredients are combined well.  Press the nut mixture evenly into bottom of prepared springform pan.  Bake  crust for 10 minutes; cool on a wire rack.
In a large bowl, beat cream cheese on low until very creamy, taking care not to whip air into the cheese.  Scrape down sides and add sugar, beating on low until smooth.  Scrape down the sides and add one egg at a time on low, beating until fully incorporated and smooth.  Finally, add mandarin orange zest and juice, beating on low until smooth and fully incorporated.
Pour filling into cooled pie crust.  Place unbaked cheesecake in the oven and cover with a cookie sheet; bake for 20 minutes.  Uncover the cheesecake and continue to bake for 20-30 minutes, until center is set but slightly jiggly like Jell-o.  Remove cheesecake from the oven and cool for 10 minutes. 
In a small bowl, combine sour cream and sugar.  Spread over still warm cheesecake and bake for 5 minutes.  Cool to room temperature before storing covered in the refrigerator. 
Cheesecake is best when prepared the day before.
*Substitute all of the juice and zest for another fruit or extract to create your own family favorite flavors!
Have a blessed day!  Tiffany @ Don't Waste the Crumbs
Tiffany
is a frugal foodie, balancing the desire to feed her family healthy food while being a good steward of her finances. She realizes it's possible to eat good food on a small budget if you make baby-sized changes. She works hard at mastering real food without going broke and shares her journey at
Don't Waste the Crumbs
and on
Facebook
.
Related Posts
Recent Posts
By
Fawn Weaver
November 12, 2017
Top 5 Regrets From the Dying: An Inspirational Article For Us All
By
Fawn Weaver
October 19, 2017
How to Protect Your Marriage During Challenging Times
By
Fawn Weaver
September 16, 2017
5 Unique Ways to Make Your Man Feel Special in 5 Minutes or Less