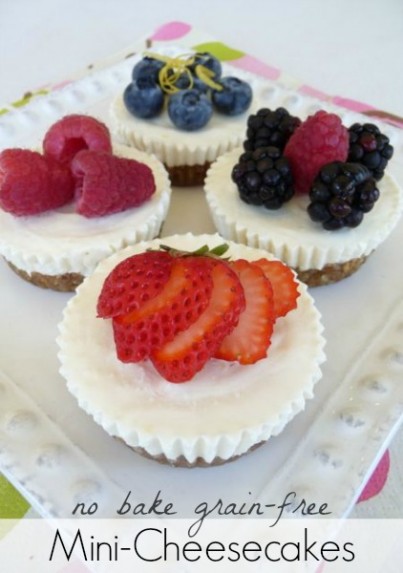 No Bake Mini-Cheesecakes (GF)
We love to entertain in the summer, so I'm always looking for easy, healthy recipes that can be made ahead of time. That way, I can enjoy spending more time with my guests and less time in the kitchen. 
The warm weather of summer lends itself to a light, refreshing no-bake dessert ­. So I decided to rework my favorite no-bake cheesecake recipe to create these scrumptious little mini-cheesecakes.
The wonderful thing about this recipe is there's something for everyone since you can provide a nice little assortment, using a variety of your favorite fresh fruit toppings. Or simply top them with an additional sprinkle of grated lemon zest for an extra punch of tart goodness.
No Bake Grain-Free Mini-Cheesecakes
Ingredients
Nutty Crust
1 cup walnut baking pieces
12 whole pitted organic medjjool dates
2 tsp coconut oil (or butter, softened) 
Cheesecake Filling
8 oz. organic plain (or cultured) cream cheese, room temp
1/3 cup pure raw honey
2 tbsp fresh squeezed lemon juice (about 1 lemon)
2 tsp fresh grated lemon zest (about 1 lemon)
1 cup plain organic whole milk Greek yogurt
Fresh Berry Topping
2 1/2 cups of your favorite assorted fresh organic berries 
Instructions
Nutty Crust
1. Combine walnut pieces, pitted and halved dates and coconut oil in a food processor and process until very finely chopped. (The mixture will resemble a graham cracker style crust.)
2. Line a 12-cup muffin tin with paper liners. Using your fingers, press the nut mixture into the bottom of each paper muffin liner. (Use about 1 heaping tablespoon per muffin cup.)
Cheesecake Filling
3. Carefully wipe out the food processor container and blade with a clean paper towel (or dish towel). Then add the cream cheese, honey, lemon juice and lemon zest to the clean container and process until well combined.
4. Add the whole milk Greek yogurt and process until smooth and creamy.
5. Divide filling evenly among the 12 muffin cups. Use your finger to even out the top of each muffin cup to ensure the filling is evenly distributed within each cup.
6. Place the muffin tin in the freezer for at least two hours until frozen solid. 
Fresh Berry Topping
7. When ready to serve, remove the muffin tin from the freezer. Then remove the mini-cheesecakes one at a time from the muffin tin and gently peel off the paper liners. (Or you can place the frozen solid mini-cheesecakes – liners left on – into an airtight container and just take out what you need and keep the rest frozen for future use.)

8. Place the paperless mini-cheesecakes on a serving platter and allow them to sit on the counter about 20 minutes before serving.
9. While waiting for them to thaw a bit, arrange your favorite fresh berries in a pleasing pattern across the top of each mini-cheesecake.
10. Then serve and enjoy the accolades! These lemony little cheesecakes are AMAZING!
Kelly loves the Lord, her family, and sharing her passion for real food cooking and meal planning with others. She is a full-time homemaker who loves spending time with her awesome hubby and two sweet boys. Kelly's real food journey began five years ago when she was diagnosed with a chronic auto-immune disorder. Since then, the Lord has blessed her with an amazing recovery - a testament to His grace and the health benefits of eating real food. Kelly shares her knowledge and love for whole food cooking at
The Nourishing Home
,
Facebook
and
Google
.
Related Posts
Recent Posts
By
Fawn Weaver
November 12, 2017
Top 5 Regrets From the Dying: An Inspirational Article For Us All
By
Fawn Weaver
October 19, 2017
How to Protect Your Marriage During Challenging Times
By
Fawn Weaver
September 16, 2017
5 Unique Ways to Make Your Man Feel Special in 5 Minutes or Less