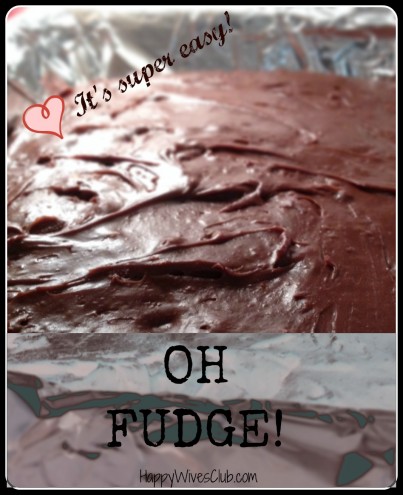 Oh Fudge – it's super easy!
Who doesn't like the rich, creamy, chocolatey taste of homemade fudge?
It's a great gift to give away to friends and family members for any occasion.
We like to give hostess gifts when we are invited to parties, this is a quick and easy gift to make. Another great time to give away fudge is when you have someone new that moves into your neighborhood.
This recipe has only 5 ingredients! It takes no time to prep.  Someone may just have to hold you back while it chills in the fridge (so you won't eat it)!
Super Simple Fudge
Ingredients:
3 cups of semisweet or milk chocolate chips
1 (14oz) can of sweetened condensed milk
dash of salt
1 teaspoon real vanilla extract
1 cup chopped walnuts (optional)
Directions:
1. In a heavy saucepan over low heat add the first 3 ingredients. Gently stir until the chocolate is melted and the ingredients are well combined. Next, add the nuts (optional) and vanilla, stirring until combined.
2. Pour onto a well greased 8×8″ glass dish (or line it with wax paper). Refrigerate until set or firm (about 2 hours).
ENJOY!
Annett Davis is an Olympian in Beach Volleyball. She loves great food and helping people get healthy over at
GetFitWithAnnett.com
. Her favorite topics are marriage and anything fitness related. Being married to her soul mate, Life Coach and author Byron Davis for 16 wonderful years, Annett loves being a homeschooling mom of 2. She blogs over at
FitMomsFitKidsClub.com
, and inspires kids to grandmas to get in shape for life in her private accountability groups.
Latest posts by Annett Davis (see all)
Related Posts
3
By
Annett DavisAnnett Davis
June 17, 2014
Cherry Blueberry Oat Bars
1
By
Annett DavisAnnett Davis
March 6, 2014
Healthy 3-Ingredient Ice Cream
Recent Posts
By
Fawn Weaver
November 12, 2017
Top 5 Regrets From the Dying: An Inspirational Article For Us All
By
Fawn Weaver
October 19, 2017
How to Protect Your Marriage During Challenging Times
By
Fawn Weaver
September 16, 2017
5 Unique Ways to Make Your Man Feel Special in 5 Minutes or Less