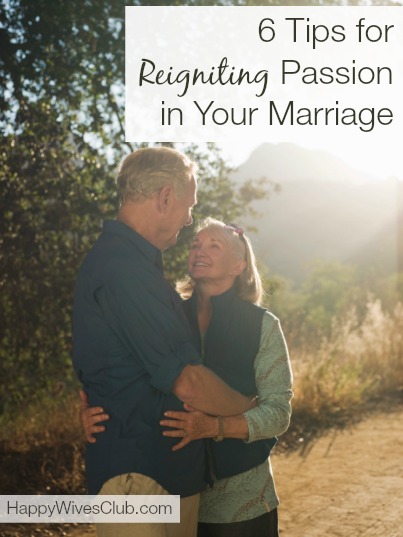 On more occasions than I can recall, I've received emails from wives who have stumbled across this site and asked:
What about me?  What about the wife who isn't happy and needs help falling in love again?
And honestly, because of the original mission of this club, there aren't a lot of posts on this site that address "rekindling" or "reigniting" passion in marriage.
So for those who have written me asking those questions, and for others who are yet to ask, this post by journalist and author Emily Wierenga is for you.
Until tomorrow…make it a great day! 

___________
I was sitting in a hotel room on a king-sized bed at a conference.
I was sitting there alone, not minding being alone, wishing that I missed him.
Wishing I missed the man I'd been married to for eleven years and I was forgetting what the touch of his hand felt like.
His calloused, farm-boy hand, the one that found me across the duvet those three years I relapsed into anorexia and sleeping pills.
The one which fed me ice chips as I birthed two miracle boys, the one which always gave me the first strawberry of the season from our garden.
I crawled onto the king-sized mattress then, stretched out across the miles of bed and cried.
I was scared.
I was scared of forgetting how to be in love with my husband.
Many marriages—no matter how strong—finds itself here, at some point: at a crossroads. And it's there, at the crossroads, that we have a choice.
If we stay on the same path, we'll end up not recognizing one another in 10 years and arguing over who gets custody. It's a pivotal moment, this crossroads: of deciding—do I still believe in love, and if so, am I willing to allow it to transform this relationship into something they make movies about?
In other words, do I believe love is the most powerful force in the world? And if so, can it overcome any obstacle—including indifference?
I believe it can. In fact, I know it can.
It means reaching the crossroads and choosing the narrow path, the one leading to a marriage so real and intimate it will make our kids want to get married. The choice is to keep falling in love with your husband.

So here are six things that helped me reignite the passion in my marriage:
1. Don't be afraid to apologize. Grab your husband's hand and feel the roughness of his palm and say, "I'm sorry for not letting you in." Be vulnerable, and in turn, he too will become vulnerable, and your feet will turn towards the road less marked.
2. Choose your husband over work. Set aside evenings to spend with him. Put technology away, and play ping-pong in the garage. Let him make you belly-laugh again.
3. Don't compare your husband to other men. Comparison will eat up contentment. It will rob you of joy. Our disappointments are only as great as our expectations. As bad as it sounds, lower your expectations of your husband and accept him as HIM.
4. Believe that your husband loves you. He tells you all the time, but sometimes, you may stop hearing him. He loves you. For better or worse, till death do you part. He loves you. Never forget that.
5. Be bold in the bedroom. Our hubbies desire to be desired. Light a candle, slip into something sexy, and show your man how much he means to you.
6. Prioritize your husband over the kids. We live in a culture that says kids are more important than marriage. But it's our marriage that's going to be there long after the kids go. Focus on loving your husband first and your kids second, because in the long run that will bless your children the most.
Marriage is the fire that family gathers around, friends.
The key is to never let it go out.
##
Thanks for letting me share my story with you.  I am excited to give away 3 copies of my bestselling memoir, Atlas Girl today. Just come over HERE and enter the Rafflecopter to win.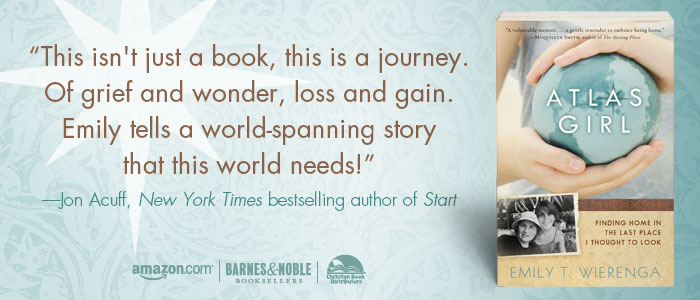 I'm also giving away a FREE e-book to anyone who orders Atlas Girl. Just order HERE, and send a receipt to: atlasgirlbookreceipt@gmail.com, and you'll receive A House That God Built: 7 Essentials to Writing Inspirational Memoir – an absolutely FREE e-book co-authored by myself and editor/memoir teacher Mick Silva.
ALL proceeds from Atlas Girl will go towards my non-profit, The Lulu Tree. The Lulu Tree is dedicated to preventing tomorrow's orphans by equipping today's mothers. It is a grassroots organization bringing healing and hope to women and children in the slums of Uganda through the arts, community, and the gospel.