I've been married to John for twenty-four years. Some women show their men they love them by providing a back rub or going on a hike. I display my love by bringing home cheese. Lots and lots of cheese. Thankfully, I found the perfect place to stock up when I visited one of my favorite places, Berlin, Ohio.
Heini's Cheese Chalet is evidence of what can happen when a hardworking couple dreams together, and works together to see that dream fulfilled. Here is the story behind Heini's:
"Our grandfather, John (Hans) Dauwalder, trained as a master cheesemaker in Switzerland and came to the United States in the 1920s to display his artisan talents in a growing cheese market. After several successful years at the Bunker Hill Cheese Co-op, John decided to return to his hometown in Switzerland to further his romance with Lili Mueller. The two fell in love and were married in 1933.
In 1948, John and Lili, together with their two children, Peter, our father, and Marguerite, our aunt, sold the family farm in Switzerland to join John's Brother Crist in the United States. Crist had purchased Bunker Hill Cheese in 1935 and asked John to join him in building the family cheese business.
In 1962, our parents, Peter and Nancy, who were married in 1955, acquired Bunker Hill Cheese. The name was changed to Heini's Cheese Chalet after our heritage."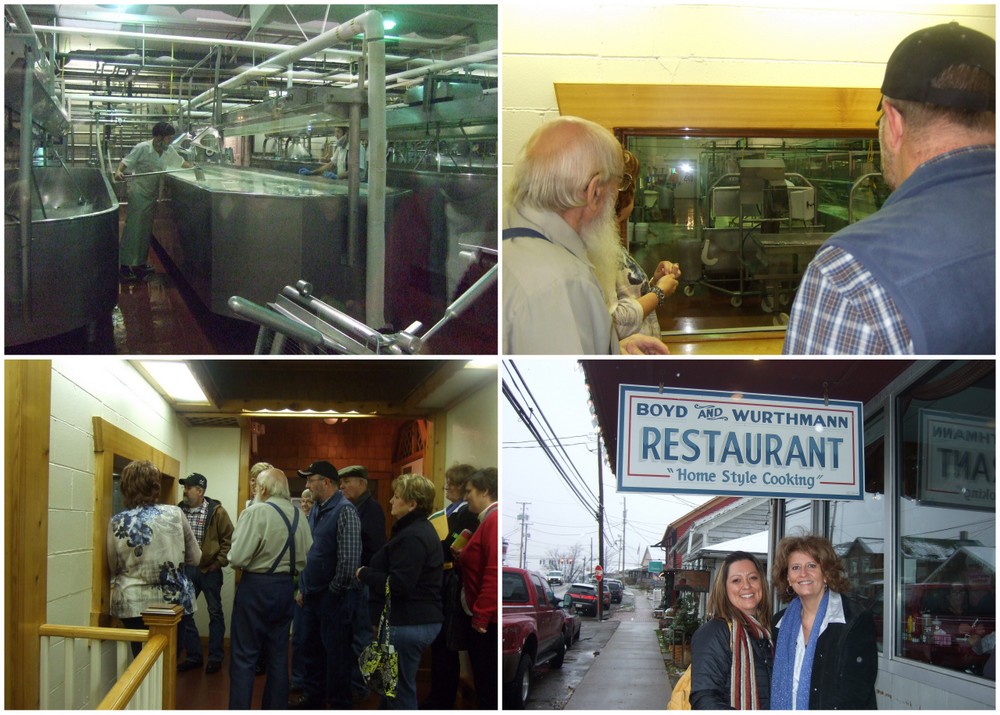 Heini's cheese is some of the best I've ever tasted. My favorite was the Salzburg cheese, which reminded me of the cheese I found in Europe. At the cheese factory, large windows allow visitors to watch the cheese being made by master cheese makers. The cheese is made from milk that is hand-milked and delivered to the factory in traditional milk cans. Their success is the evidence of the power of relationships—between husbands and wives who dare to have a dream and between cheese makers and Amish farmers in a rural community.
If you find yourself in Berlin, stop by Heini's, watch the cheese-making process, and taste the cheese. The samples are abundant and tasty. You can even have a free tour by an eighty-four-year-old Amish man named Atlee! And visit the coffeeshop and bookshop and pick up a CD or book from Lisa Troyer. Lisa's a Christian author and singer whose parents own Heini's. You're in for a treat!
If you're staying the night, I highly recommend Berlin Inn and Suites, from the friendly front desk, the warm fresh-baked cookie upon checking in, and the immaculate room. I wished I could stay a week, not just a weekend. I stayed in a suite and enjoyed the whirlpool tub. The fresh-smelling sheets were a welcome treat, and I honestly had one of the best nights sleep I'd had in a while.
Also, if you are looking for a great lunch, check out the local hangout spot, Boyd and Wurthmann. Their sign proclaims "Home Style Cooking," and that's exactly what you get. Boyd & Wurthmann Restaurant still serves a 75¢ cup of coffee and is one of the oldest established businesses in Berlin, Ohio, it opened in the 1930s. I had a wonderful bacon cheeseburger with an in-house special "yellow mayonnaise"—made from mayo, mustard, and a bit of sugar, I was told. It was delicious, as was the homemade coconut cream pie!
While you're in Berlin, make sure you visit The Gospel Bookshop, situated in the Amish mall. The bookshop is just one of the numerous business. In the same building is a grocery store, a bank, a pharmacy, a fabric store, and more . . . and it's where the Amish shop. I sat for more than an hour just watching the Amish families. Visiting here truly gives you a glimpse into their everyday lives.
Berlin, Ohio, is one of my favorite places to visit, and you can guess why.
Oh, yes, and I did bring my husband home cheese . . . lots of cheese. He was thrilled. We're still enjoying it, and we're already planning a visit to Heini's sometime next year! I encourage you to visit too!