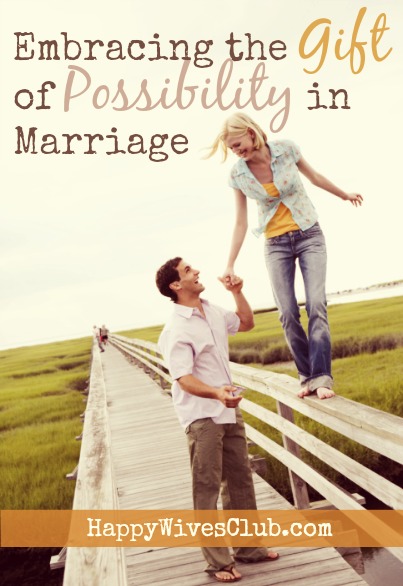 Embracing the Gift of Possibility in Marriage
I am fortunate.  I grew up believing anything was possible.  
My father was raised picking cotton in Houston, Texas.  Within 20 years, he became known as one of the greatest Motown producers in its history.
My grandmother was a blue-eyed, blond haired beauty in Germany during Hitler's horrid reign.  She fell in love with my grandfather, an African-American serviceman fighting in WWII.
They had a child together, my uncle.  In the 1960s, it was so odd for an African-American man and a German woman to have a child together that the local circus in Germany inquired about acquiring my uncle to be displayed (not kidding).
Yet, they made it work and later moved to the United States as husband and wife.
I've always believed in impossible dreams.  I've never known otherwise.  However, for many of my friends and relatives, it is a harder concept to embrace.  
That's why I love this post by HWC contributor, Kim Hall.  She gives a tangible step-by-step for taking a marriage from possibility-impaired to embracing the gift of possibility.
Until tomorrow…make it a great day!

_____________
What you experience in life shapes your beliefs.
These beliefs then shape your experiences. 
This endless loop of cause and effect can be positive, or it can leave you boxed in with beliefs like these:
Nobody can live debt-free.
Only college graduates are successful.
Being happily married is a fairy tale.
When you embrace these statements—and hear them echoed by culture as the absolute truth—you can become blind to seeing the joy in the everyday of your marriage.
Have you considered you might be possibility impaired in your marriage?
Possibility Impaired is a phrase I learned from real estate author Gary Eldred:
Who are the possibility impaired? This type of owner confuses his diamond in the rough with a lump of coal. These owners don't see the potential that their property offers.
With a simple rephrasing, Eldred's information offers terrific marital insight:
Who are the possibility impaired couples?  This type of spouse confuses her diamond in the rough with a lump of coal.  These husbands and wives don't see the potential that their marriage offers.
If you have spent any time here at Happy Wives Club, you've read about the joy and satisfaction that is possible in marriage.
It's not all rainbows and unicorns, obviously.
There is enormous effort, patience, lots of love and forgiveness involved.
There are the things you say that are just as important as the things you don't.
There are the multitude of little things that add up to a marriage that lasts.
So how can you move from being possibility impaired to being open to the gift of possibility in marriage?
Begin by asking yourself these questions today:
What does being happily married look like for me?  You need a vision to work towards.
What has to happen for me to be happily married?  Your responses will help you plan for action.
What is one small thing I can do today to move towards a happier marriage? Start small and work forward.
The truth is this: If you are willing to entertain the possibility of being happily married, you will open the door to much greater joy in your own relationship. 
Questions:  Have you been possibility impaired in your relationships? What advice would you give to help someone see the possibilities of a happy marriage?
May you find happiness wherever you are!
Kim, your personal Sherpa of Joy at Too Darn Happy
##
JOIN THE 1,000,000 MEMBER CHALLENGE: If you haven't already done it, what are you waiting for? Join the club! It takes only a few seconds and, of course, is free.
Kim Hall created Too Darn Happy with the mission of helping you find happiness in all circumstances through the encouragement of faith, the practice of gratitude, and the discovery of joy, all spun together with fresh perspectives, practical advice, and a personal touch. She recently authored her first ebook, Practicing Gratitude and Discovering Joy-30 Days to a Happier You.
Related Posts
4
By
Fawn WeaverFawn Weaver
November 12, 2017
Top 5 Regrets From the Dying: An Inspirational Article For Us All
43
By
Fawn WeaverFawn Weaver
October 19, 2017
How to Protect Your Marriage During Challenging Times
35
By
Fawn WeaverFawn Weaver
September 16, 2017
5 Unique Ways to Make Your Man Feel Special in 5 Minutes or Less
Recent Posts
By
Fawn Weaver
November 12, 2017
Top 5 Regrets From the Dying: An Inspirational Article For Us All
By
Fawn Weaver
October 19, 2017
How to Protect Your Marriage During Challenging Times
By
Fawn Weaver
September 16, 2017
5 Unique Ways to Make Your Man Feel Special in 5 Minutes or Less