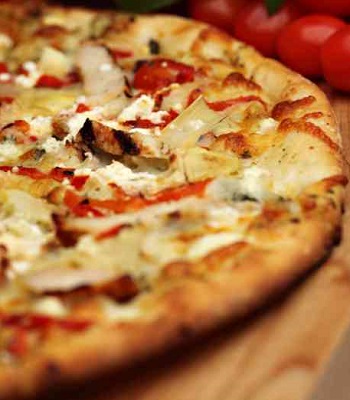 Cinco de Mayo: Mexican Chicken Pizza
Let me start off by saying that at my bridal shower almost five years ago, my amazing mother-in-law gave me a gift that has been worth its weight in gold- a cookbook full of my husband-to-be's favorite recipes! I think this should be a standard gift because oh my goodness, it's been fantastic!
I remember him flipping through it saying, "I love that" and "oh man, I love that!" on every page! I know that on any given day I can open this cookbook and bam- something he'd love to eat.
This is another quick meal, assuming you are like me. When I know I'll need any kind of cooked chicken, I tend to prep it at the beginning of the week. I cook all my chicken breasts so that on the day I need it I can shred it, cube it, ect. This has saved me tons of time!
This meal, once chicken is cooked, should take approximately 5 minutes to assemble and the best part is you can add whatever you want to it! I like to add different spices to it and some hot sauce as well, but this should be as quick as tossing ingredients on pizza dough and sticking it in the oven.
So here you go- Mexican Chicken Pizza courtesy of my mother-in-law, Shari!
Mexican Chicken Pizza
What You'll Need:
Pizza crust  (I use a ready-made)

½ tsp. chili powder

¼ tsp. garlic salt

¼ cup sliced black olives

1 ½ cups shredded Monterey Jack cheese

2-3 tbsp. chopped green chilies, drained

Salsa

2 cups cubed, cooked chicken

½ tsp. cumin

½ cup chopped tomato, drained

¼ cup finely chopped onions

1 cup shredded cheddar cheese

1 avocado, peeled and sliced
Pre-heat oven to 425 degrees.

In a large bowl, combine chicken, chili powder, cumin and garlic salt, mixing well.

Spoon chicken on to dough evenly. Top with tomato, olives, onions, green chilies, Jack and cheddar cheese.

Bake at 425 degrees for 20-24 minutes, or until crust is golden brown.

Serve topped with avocado and salsa.
Your finished product should look something like this:
Enjoy!
-Nicole @ Glass on the Outside
Nicole Glass is a full time administrative assistant and a full time wife. Happily married for five years, she enjoys spending time with her husband Aaron and their dog Parker in Northern Nevada. Nicole enjoys running (currently training for her first full marathon), cooking and writing. Her eclectic blog
Just Glass On The Outside
covers everything from distance running to meal planning for two!
Latest posts by Nicole Glass (see all)
Related Posts
2
By
Aunt LaLaAunt LaLa
April 24, 2014
Easy Chicken Stir Fry
8
By
Katie BaldridgeKatie Baldridge
September 29, 2013
Blueberry Vanilla Muffins {gluten-free}
1
By
TiffanyTiffany
September 22, 2013
Healthy and Frugal Spinach Salad
Recent Posts
By
Fawn Weaver
November 12, 2017
Top 5 Regrets From the Dying: An Inspirational Article For Us All
By
Fawn Weaver
October 19, 2017
How to Protect Your Marriage During Challenging Times
By
Fawn Weaver
September 16, 2017
5 Unique Ways to Make Your Man Feel Special in 5 Minutes or Less