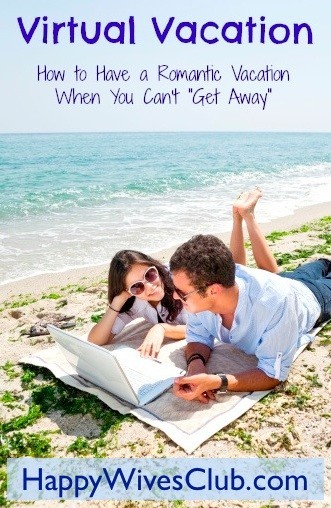 Virtual Vacation – How to Have a Romantic Vacation When You Can't "Get Away"
I came up with this date night idea last year when we found out we wouldn't be able to go on any trips that summer.
My husband got off work one night, and I invited him to go on a virtual vacation with me. He was definitely skeptical at first, but he ended up loving it! He still talks about how much fun it was over a year later! 
Wondering how to go on a Virtual Vacay? It's simple! All you need is a computer, or another way to go online, and a bit of creativity!
This is how it works: You and your spouse pick out your dream vacation spot. The place you would go if money and time were not an issue.
Then, get to work searching online for sightseeing tours, fancy restaurants, hiking activities or anything else you would want to do while on vacation.
Plan out your ideal trip, and share photos with one another of the types of things you'd be seeing if you were on the trip together. Google Images works great for this.
My husband and I had a fun time competing with each other to find the prettiest view and the biggest animals! 
This is a great way to "see the world" without worrying about job commitments, childcare, or finances! Since you won't really be going on the trip, you are free to get as extravagant as possible with the planning, and have fun exploring travel options that might not normally be available to you. 
You can write out your plans and tuck them away as a "someday" trip, or just keep them in a binder and record all your virtual travels together in one place. 
This is one of our favorite date nights, and one of the easiest to do together! 
If you are unable to take a trip this year, or just want to have some extra fun planning a virtual romantic getaway, then this is the perfect date for you! 
The freedom is exhilarating, there are no restrictions based on strength, fears, money or time. Just fun, imagination, and a whole lot of romance!
Happy Dating!!!  
P.S. If you are looking for ideas, you can read all about our first Virtual Vacation here! 
Paula Rollo: Paula & her hubby have been happily married for 4 years. They decided to tie the knot after knowing each other for just 35 days! They now have 2 rambunctious kiddos known as Little Man (2) and The Princess (7 mos). The family resides in Texas in a small but lively apartment. Paula and her hubby love to play board games, take long walks with the kids and they both LOVE the Texas heat! Paula also has a passion for writing. Her compositions have been featured many places around the web, including her own blog
Beauty Through Imperfection
where she writes about motherhood and strives to be an encourager through her writing.
Latest posts by Paula Rollo (see all)
Related Posts
4
By
Annett DavisAnnett Davis
March 8, 2017
How to Make Date Nights Happen When You're Parents: Kid Swap!!
16
By
Fawn WeaverFawn Weaver
September 28, 2016
The Fun Dare: 12 Dates in 12 Days
2
By
Morgan SimsMorgan Sims
January 18, 2016
9 Date Ideas That Won't Break the Bank
Recent Posts
By
Fawn Weaver
November 12, 2017
Top 5 Regrets From the Dying: An Inspirational Article For Us All
By
Fawn Weaver
October 19, 2017
How to Protect Your Marriage During Challenging Times
By
Fawn Weaver
September 16, 2017
5 Unique Ways to Make Your Man Feel Special in 5 Minutes or Less