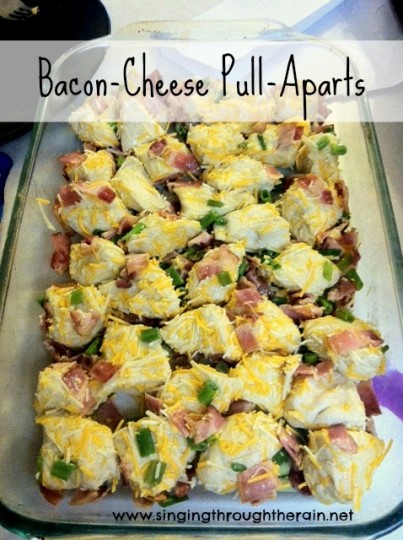 Bacon-Cheese Pull-Aparts
I found this recipe a long time ago via Pinterest and I made it for dinner one night. After deciding that it was very good, but definitely more of a breakfast food, I decided to make it again recently for my Sunday School class!
We are in the young married couples class and we all like to take turns bringing breakfast each Sunday. I decided this would be the perfect recipe to make and bring in and it was a huge hit! There was nothing left at the end. The recipe was simple and easy to make which I loved because Sunday mornings can be pretty hectic in our house.
I hope you get the chance to try it for breakfast one morning, I know you will love it!
Ingredients:
1 egg
2 tablespoons of milk
1 can of Pillsbury Grands Flaky Biscuits (Original)
1 package of pre-cooked bacon
3/4 cup of shredded cheddar cheese (I used Colby cheese)
1/4 cup of chopped scallions
How to Make:
1. Preheat oven to 350 degrees and spray your casserole dish with cooking spray. 2. Cut the entire package of bacon into 1 inch pieces and set aside. Chop up scallions and set aside. 3. In a large bowl, mix the egg and milk together with a whisk until smooth. 4. Open up the biscuits and separate. Cut each biscuit into quarters (4 pieces each). 5. Gently stir the dough into the milk and egg mixture and make sure they are all coated evenly. Add bacon cheese and scallions. 6. Spoon the mixture into your casserole dish and arrange biscuits in a single layer. 7. Bake for 23-28 minutes or until golden brown. (I would watch carefully, mine cooked pretty fast).
Image From: www.pillsbury.com
Recipe From: www.pillsbury.com
Let us know how you like these Bacon-Cheese Pull-Aparts!
Kathryn is a 20-something stay-at-home mother and military wife. She keeps busy by taking care of her special needs son and blogging about faith, marriage, motherhood, military life and more at
Singingthroughtherain.net
. In her spare time, she likes hanging out with friends and going on date nights with her husband!
Latest posts by Kathryn Sneed (see all)
Related Posts
0
By
Annett DavisAnnett Davis
September 27, 2015
Creamy Garlic Salad Dressing
0
By
Aunt LaLaAunt LaLa
August 18, 2015
Easy Pulled Pork Sandwich
2
By
Aunt LaLaAunt LaLa
August 15, 2015
Aunt Vivian's Chicken in White Wine Sauce
Recent Posts
By
Fawn Weaver
November 12, 2017
Top 5 Regrets From the Dying: An Inspirational Article For Us All
By
Fawn Weaver
October 19, 2017
How to Protect Your Marriage During Challenging Times
By
Fawn Weaver
September 16, 2017
5 Unique Ways to Make Your Man Feel Special in 5 Minutes or Less