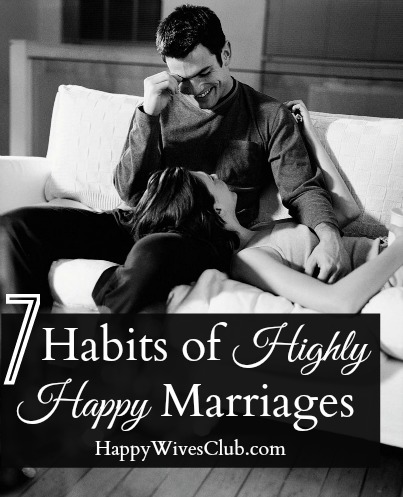 7 Habits of Highly Happy Marriages
We all know that good habits can help us feel better, succeed at work, and get healthier. Happy marriages tend to have common practices just like thriving companies all do certain things well.
There are probably hundreds of little habits that help make our relationships healthy and happy – from putting caps on toothbrushes to saying good morning, but for today, let's focus on 7 of the biggies.
Use these as a check list – if you are doing all of them, great! If not, pick one and start this week. And remember, habits can only be changed one day at a time.
1. Talk about your day. Every day. By creating little moments of connection, you are ensuring the "communication highway" in your relationship is free of roadblocks. Having little conversations every day, makes it much easier to have big conversations when those moments come. Habits are done daily. This one is non-negotiable if you want a healthy, happy relationship.
2. Kiss. Every day. Notice a theme? It's not "kiss when you go on date" or "kiss when the kids aren't around," it's "Kiss. Every day."  Marriage researcher John Gottman recommends a 6-second kiss every day.  It should be long enough to feel romantic and will be like a love vitamin – nurturing connection and intimacy in your marriage.
3. Defer Decisions until you can talk about them privately. This means, you make an agreement with your spouse not to accept invitations, decline opportunities or give an answer to anyone about almost anything, until you have talked about it and made a decision together.
Over the years we've been married, my husband and I are now both trained to say, "Let me talk it over with my honey.  I will get back to you," whether it's an invitation to the movies or a request to volunteer. This is a pro-active way to avoid disagreements, misunderstandings and resentment.
4. Prioritize. Make it clear to your spouse and to the world that your priority is your marriage. Knowing this makes it easier to make decisions every day.
Asking a question like "Will this nurture and develop my relationship or take me away from it?" or "Is this aligned with my priorities?" before you make a decision gives you the opportunity to step back and make sure you are moving in the direction you want to go before you make a commitment that can hurt your relationship.
5. Express Gratitude. Everyday. Expressing gratitude feels good to YOU because you are looking for the positive things to celebrate and acknowledge in every day. It feels good to your HUSBAND because he in turn, feels celebrated and acknowledged. If you are not in the habit of expressing gratitude, start with this step and read Fawn's fabulous article about how to write a "Husband Gratitude List" here.
6. A.E.O.D: Accept Each Other's Differences.  Fawn wrote a great article about how important this is back in 2011. In it, she said, "Sometimes we need to remind ourselves that the qualities that make our spouses different are also what make them great."
It really is okay if you never want to go bowling and he never wants to do yoga.  I was recently interviewed for a podcast and we spent an hour talking about what to do when you and your spouse aren't on the same page – the bottom line is that accepting each other's differences is one of the keys to helping the relationship last, long after your passions for jobs, hobbies or other adventures has passed.  
7. Give some Vitamin F2 every day. What is Vitamin F2, you ask? Flirt and Fun. And yes, I just made it up.  We usually get instructions to *take* vitamins. How about giving some every day to the love of your life?
Think of marriage like a marathon, it's long, you will get tired, and you need the water of motivation to keep you going. Laughing together and keeping that spark of flirtatious love alive will add a little joy to every day – even the hard ones.
These 7 habits will make the hard times easier to manage and fill the good times with so many happy memories that you can lean on those memories and good feelings when the hard times come. Now it's your turn, what habit would YOU add to this list?
##
JOIN THE 1,000,000 MEMBER CHALLENGE: If you haven't already done it, what are you waiting for? Join the club! It takes only a few seconds and, of course, is free.

THE BOOK: Read the book that inspired the powerful TED talk and prompted author of The 5 Love Languages, Gary Chapman, PhD., to write the book's foreword. Drs. Les & Leslie Parrott, bestselling authors of Saving Your Marriage Before It Starts said, "We've been counseling couples and writing marriage books for a long time, and we can say with absolute certainty, there has never been a book quite like The Argument-Free Marriage. If you think no such union exists, or if you've come to the conclusion that arguments are necessary in marriage, allow Fawn to challenge that notion and set you on a path to creating the greatest partnership in life: your marriage."
Life Coach, Writer + the Founder of ModernMarried.com
Maggie Reyes is a Life Coach, Writer + the Founder of
ModernMarried.com
. Her romantic-yet-practical approach to wedded bliss has been featured on Project Happily Ever After, Daybreak USA, Cristina XMRadio and Military Spouse Magazine. When she's not writing, working or creating pins for her fabulous Facebook Community, you can find her cuddling with her hubby, reading a romance novel or embracing how the words "over-achiever" and "TV Junkie" can still go in the same sentence, to describe the same person. Learn how to love like a newlywed no matter how long you have been married at
ModernMarried.com
.
Latest posts by Maggie Reyes (see all)
Related Posts
13
By
Maggie ReyesMaggie Reyes
May 21, 2017
The Marriage Effect: How Being Married Makes You Happier & How to Keep It That Way
17
By
Cheri GregoryCheri Gregory
March 10, 2014
6 Scientific Questions to Ask About Your Marriage
15
By
Christine St. VilChristine St. Vil
January 20, 2014
5 Reasons Why I Still Believe in Marriage
Recent Posts
By
Fawn Weaver
November 12, 2017
Top 5 Regrets From the Dying: An Inspirational Article For Us All
By
Fawn Weaver
October 19, 2017
How to Protect Your Marriage During Challenging Times
By
Fawn Weaver
September 16, 2017
5 Unique Ways to Make Your Man Feel Special in 5 Minutes or Less