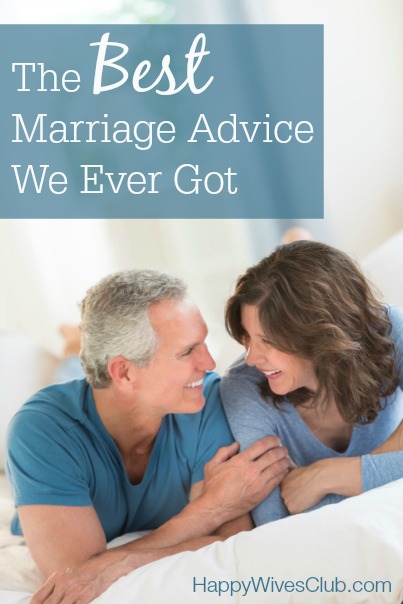 The Best Marriage Advice We Ever Got
I must admit, I'm a bit of a ModernMarried.com stalker.  I love the main blogger and chief encourager at MM, Maggie Reyes.  
If you've visited Maggie's blog, you know she has a gift for lifting the lowest spirits and shares her perspective on love with honesty and transparency but always without judgement.
She loves being married and her joy whenever she talks about marriage is infectious.  I just want to rub a little of what she's got all over the world every day.
As the saying goes, "Happiness is a perfume you cannot pour on others without getting some on yourself."
She is wonderful.  She is a delight.  And her marriage benefits from that spirit of happiness daily.
When I stumbled across her post on the best marriage advice she ever got, I wondered if it was the same as the best marriage advice I've ever received.  It wasn't.  It was entirely different which made it even that much more interesting to me.
Now, I'm not sure which piece of advice I think is better.  Maybe we'll just call it a draw.  Both are words of beauty, something we can add to our marriage each and every day.
Until tomorrow…make it a great day!

__________
When The Hubs and I were dating we went to a lot of workshops together.  My favorite of all the different classes we did was about connecting with your heart. It was a 6 week class. I don't remember the name of the teacher, the place where we took it or what we studied. All I remember from the class is one sentence. One, glorious and powerful sentence:
You create your relationship every day.
That's it. So simple.
The teacher said that people wonder why relationships die. They go out with someone, it's all fabulous in the beginning and then suddenly something happens. The relationship gets stale.
He went on to say, relationships do not get stale. People forget – you create your relationship every day. What people do is stop creating and then wonder what went wrong.
Well I guess if you count all that, it's a whole paragraph. 6 week two hour class – and one paragraph was all I got. Oddly enough, it was all I needed.
We left that class and promised, solemnly swore even. We will create our relationship every day. We will not forget and go stale. We will be fresh. Every day.
Once we decided we create our relationship every day then the next question was – how?
We decided to text each other at least once a day. We don't like to call each other during the day when we are both focused and working, however we religiously text each other at lunch time.
Texts go something like this:
Monday
Hubs: 1:05 pm Loving my over-scheduled wife kisses.
Hubs: 1:21pm Nashville soundtrack is out.
Wifey:1:33pm Yay! Itunes! Late lunch kisses!
Tuesday
Hubs: 12:14 pm Manipulative Assistant Ellis is out on Smash. New showrunner making changes.
Wifey: 12:18pm Yay!
Hubs: 12:12pm And more musicals, not just Bombshell
Wifey: 12:20pm Yes! They all need jobs on different musicals – more songs.
Wifey: 4:52pm Lovey dovey kisses for my hubsicle!
Wednesday
Wifey: 9:02 am Off to sort mail
Hubs:9:03 am Just whistle while you work
We have fun. We make each other laugh. Sometimes The Hubs reads Entertainment Weekly during his lunch time. He has declared himself my personal news-machine hence the updates on my favorite shows.
We create. Fresh Everyday.
Just like Starbucks and Krispy Kreme.
When we get home we hug. We stop whatever we are doing and hug.
Hugs are sacred.
Then we leave the day behind, change clothes, open the mail and start with our Daily Check-In.
We go on dates. When a new movie is coming out we ask each other out. We plan it. As if we were dating. Because we are.
We plan vacations. We love -with zeal and devotion- planning vacations. Not just the vacation itself, but the planning of it. I love beautiful hotels and magical experiences. The spiritual retreat with my favorite author. The acoustic concert with my favorite singer. The Hubs loves guide books and maps. We both love making memories together.
Whenever handed lemons, we promptly make lemonade. On a trip to Costa Rica we accidentally locked our keys in our car. (Notice that I say we. The details don't matter, we are a team and it happened to both of us. That 'we' really helps when there is a lemon parade. 'We' got in this together and 'we' will get out of it.)
Anyway, as I was saying, there we were not going anywhere in Costa Rica. For several hours.
So we took a hike. Literally. We hiked up a hill. Saw cows. Laid in the grass and looked at clouds. Laughed and hugged.
One of my favorite memories ever was created when our keys were locked in our car.
Lemonade. It's the new classic coke.
Fresh. Everyday.
COMMENTS: Name one thing you do to keep your relationship fresh.  Drop your comment on the Happy Wives Club Facebook page where hundreds of thousands of women engage daily.

THE BOOK: Read the book that inspired the powerful TED talk and prompted author of The 5 Love Languages, Gary Chapman, PhD., to write the book's foreword. Drs. Les & Leslie Parrott, bestselling authors of Saving Your Marriage Before It Starts said, "We've been counseling couples and writing marriage books for a long time, and we can say with absolute certainty, there has never been a book quite like The Argument-Free Marriage. If you think no such union exists, or if you've come to the conclusion that arguments are necessary in marriage, allow Fawn to challenge that notion and set you on a path to creating the greatest partnership in life: your marriage."
Life Coach, Writer + the Founder of ModernMarried.com
Maggie Reyes is a Life Coach, Writer + the Founder of
ModernMarried.com
. Her romantic-yet-practical approach to wedded bliss has been featured on Project Happily Ever After, Daybreak USA, Cristina XMRadio and Military Spouse Magazine. When she's not writing, working or creating pins for her fabulous Facebook Community, you can find her cuddling with her hubby, reading a romance novel or embracing how the words "over-achiever" and "TV Junkie" can still go in the same sentence, to describe the same person. Learn how to love like a newlywed no matter how long you have been married at
ModernMarried.com
.
Latest posts by Maggie Reyes (see all)
Related Posts
25
By
Tracey GossTracey Goss
October 30, 2013
4 Ways to Find the Sweet Spot in Your Marriage!
31
By
Courtney JosephCourtney Joseph
October 28, 2013
7 Practical Ways to Take Your Marriage From Good to Great
13
By
Paola DeiningerPaola Deininger
April 24, 2013
Top 10 Marriage Advice That Really Works
Recent Posts
By
Fawn Weaver
November 12, 2017
Top 5 Regrets From the Dying: An Inspirational Article For Us All
By
Fawn Weaver
October 19, 2017
How to Protect Your Marriage During Challenging Times
By
Fawn Weaver
September 16, 2017
5 Unique Ways to Make Your Man Feel Special in 5 Minutes or Less