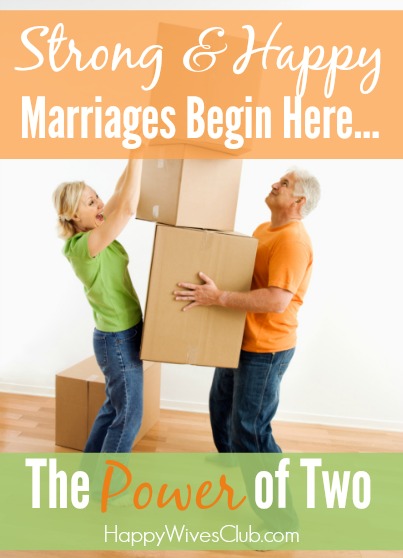 Strong & Happy Marriages Begin Here: Harnessing the Power of Two
Earlier this week, I published this fabulous post by Maggie Reyes.  In it, she answers a very simple question:
What is the best marriage advice you've ever received?
After reading how unique her answer to this question was, I wondered if I asked three more of my favorite writers the same question, if they'd all have similar answers.
The answer, in short, is not even close.
Each response was so different, wonderful, visual and unique that I've asked each one to write an article for you sharing the best piece of marriage advice they've received along this journey called life.
I hope you enjoy this impromptu series that began on Monday, The Best Marriage Advice We Ever Got.  Part one was written by Maggie with ModernMarried.com.  Part Two, what you are about to read, was written by the wonderful Kim Hall at TooDarnHappy.com.
Every day, for the remainder of this week, I'll publish a new article that answers this one question and I trust it will inspire us all.  I am SO excited to read them myself!  Hope you'll join me here all week.
Until tomorrow…make it a great day!

__________
When asked recently about the best marriage advice we'd ever gotten, I really had to stop and think.
We've been married for 31 years, so there was a lot of mental sifting and searching to do.
Then, I recalled the best marriage advice we've ever gotten wasn't really marriage advice at all, but something I had overheard at a country fair years before.
Part of the entertainment at the fair was being able to watch the horse pulls.
Those of us that could make our way through the forest of jean-clad spectators would perch on the bottom rail of the fence with our elbows hooked securely over the top.
The team of large draft horses would be led into the dusty ring, hooked to the sled, and would leap forward at the command from their driver.
Their hooves dug into the dirt and muscles would strain as they worked to pull more weight than any other team.
This is quite a feat, given that the horses weigh in around 3,400 pounds each, more or less, and the loads start at around 3,500 pounds, and can top out at close to 10,000 pounds.
I heard a little boy ask his grandfather how the horses knew what to do.
The weathered farmer replied that in order for the gentle giants to do their work on the farm, they had to learn about harnessing the power of two.
He continued, sharing that the horses were trained to pull in unison and were immediately stopped if they strained unequally against the yoke.
The danger of them going their own way meant that not only would the work not get done, but if they physically fought the constraints of the yoke, there was also a great risk of injury to everyone.
Plus, the damage to the equipment and the possibility of unplowed and unplanted fields could be catastrophic to the financial health of the household.
The similarity to strong and happy marriages is unmistakable:
Knowing you always have a teammate provides a regular and refreshing drink of encouragement.
The whole is greater—and stronger—than the sum of its parts, to paraphrase Aristotle.
Pulling in the same direction means progress towards and achievement of goals.
A road traveled together makes for a more joyful journey.
And especially this: A load shared is a load lightened.
 My husband and I have subscribed to this powerful advice of Harnessing the Power of Two, and it has made for an incredibly satisfying journey.
COMMENTS: Please share one way you are Harnessing the Power of Two in your marriage!
May you find happiness wherever you are! Kim, your personal Sherpa of Joy at Too Darn Happy
##
JOIN THE 1,000,000 MEMBER CHALLENGE: If you haven't already done it, what are you waiting for? Join the club! It takes only a few seconds and, of course, is free.
Kim Hall created Too Darn Happy with the mission of helping you find happiness in all circumstances through the encouragement of faith, the practice of gratitude, and the discovery of joy, all spun together with fresh perspectives, practical advice, and a personal touch. She recently authored her first ebook, Practicing Gratitude and Discovering Joy-30 Days to a Happier You.
Related Posts
33
By
Christine St. VilChristine St. Vil
March 18, 2017
8 Crucial Things I Would Tell My Younger Self About Marriage
14
By
Maggie ReyesMaggie Reyes
October 2, 2015
The Best Marriage Advice We Ever Got
25
By
Tracey GossTracey Goss
October 30, 2013
4 Ways to Find the Sweet Spot in Your Marriage!
Recent Posts
By
Fawn Weaver
November 12, 2017
Top 5 Regrets From the Dying: An Inspirational Article For Us All
By
Fawn Weaver
October 19, 2017
How to Protect Your Marriage During Challenging Times
By
Fawn Weaver
September 16, 2017
5 Unique Ways to Make Your Man Feel Special in 5 Minutes or Less