11 Ways to Drive Your Husband Wild!
I bet when you saw that title you instantly thought this post was about sex.  Nope!  Well, maybe a little bit.  But not very much.
I may be of the minority in saying this but I am one that doesn't buy into the thought that a man is controlled by his…ahem…endowment.  
Driving your man wild isn't something that should be contained to the bedroom…or sex for that matter.  
Now, don't get me wrong, I know men love it.  But let's give them credit for being about more than just sex.  
Just as you want to be treated like a queen, his heart's desire is to be treated like a king.  So let's have fun with it!
Although there are so many things you can add to this list, here are 11 ways to drive your husband wild: 
1. Make Him Hot and Bothered.  I said this entire list wasn't about sex, but I'm not crazy enough not to include at least one thing you can do to increase your hubby's sex drive (and your own). 
2. Fifteen Seconds a Day Keeps the Blues Away.  They say an apple a day keeps the doctor away.  Well, fifteen seconds a day of this will keep the blues in your marriage far far away.  And increase that to forty-five seconds to set off some fireworks!
3. Turn Your Home Into a Post-It Heaven.  I'll never forget seeing my mother write sweet notes to my father in red lipstick on mirrors all over their bathroom.  Now, that can be a messy proposition and was contained to one area.  Expand a little.  Make it cute.  Make it mushy.  Make it flirty.
4. Sharpen Up Your Flirting Skills.  There are SO many ways to flirt with your husband (think, sexy texts, playing footsie) and there is nothing like a man on a hunt.  Don't fight it; they were bred that way.  Men love the chase!  Let him know you want him, desire him, but he'll have to catch you. *wink* 
5. Call Your In-Laws Just to Say Hello.  When was the last time you called your in-laws, and not at the prompting of your husband?  Remember, these are the people who helped make your husband to be the wonderful man he is today.  Reaching out to the ones who brought him into the world (or at least raised him) will do more for him than you can imagine (this, of course, is assuming he has a good relationship with them and they're not absolutely crazy

).
6. Do Something Brag Worthy.  Have you ever sat around listening to men talk about their wives?  I have some experience with this, and let me tell you, it's actually quite cool!  Men love bragging about their wives so give them a reason!  Begin a Husband Gratitude List and put it in his pants pocket so he'll find it when he least expects.  Wear a tee shirt in public that says, "I Love My Husband."  Whatever it is, make him blush!
7. Kid Swap + Stay-At Home Date = Happy Husband!  Surprise him with an at-home date night.  If you don't have children, this is super easy.  Turn the house into a fancy restaurant or spa and treat him to an awesome date at home.  If you've got kiddos, make arrangements for the kids to be away while the two of you have some one-on-one time.  When was the last time you did that?  
8. The Fun Dare.  This one takes some planning but it can be done!  Choose between 12 dates over 12 consecutive nights or spread it out over 12 weeks.  Either way, you and your husband will have a blast (and you can do this on a very tight budget).  For parents, this is definitely the time to use the kid swap.
9. Turn Yourself Into a Piece of Eye Candy.  Listen, I'm the first one to say lingerie is not my thing.  I find most of it too tight, too short, too itchy, and too everything else.  BUT, there is a time and a place for everything and that includes lingerie.  It took many years (ahem…8 to be exact) but I finally found some lingerie that serve as both eye candy to him and feel comfortable to me.
10. Get On Board the 10-Minute Express.  If you looked at no. 9 and thought, "There's no way I'm putting all this into something little like that," then this one is for you!  Most of us have a little extra jelly we'd like to not have jiggling so much (hand up in the air), but if that's keeping you from showing off your body to your husband, try this!  
In just ten minutes a day, you can start toning those areas that need a little work.  US Olympian, Annett Davis, created this express workout exclusively for the women of HWC so we should all feel quite special!
11. Look Into His Eyes…and Smile.  This was so simple I had to leave it for last.  Have you ever looked at your husband in the eyes and just allowed the love in your heart to rise to the top and curl the sides of your lips?  Watch his smile expand as he looks into your eyes trying to figure out what you're smiling about.  And even if he doesn't ask…he'll know.
QUESTION: This list could be SO much longer!  What are we missing here?  (Add to the list by posting in the comments section.)
We're SO close to our goal! JOIN THE 1,000,000 MEMBER CHALLENGE: If you haven't already done it, what are you waiting for? Join the club! It takes only a few seconds and, of course, is free.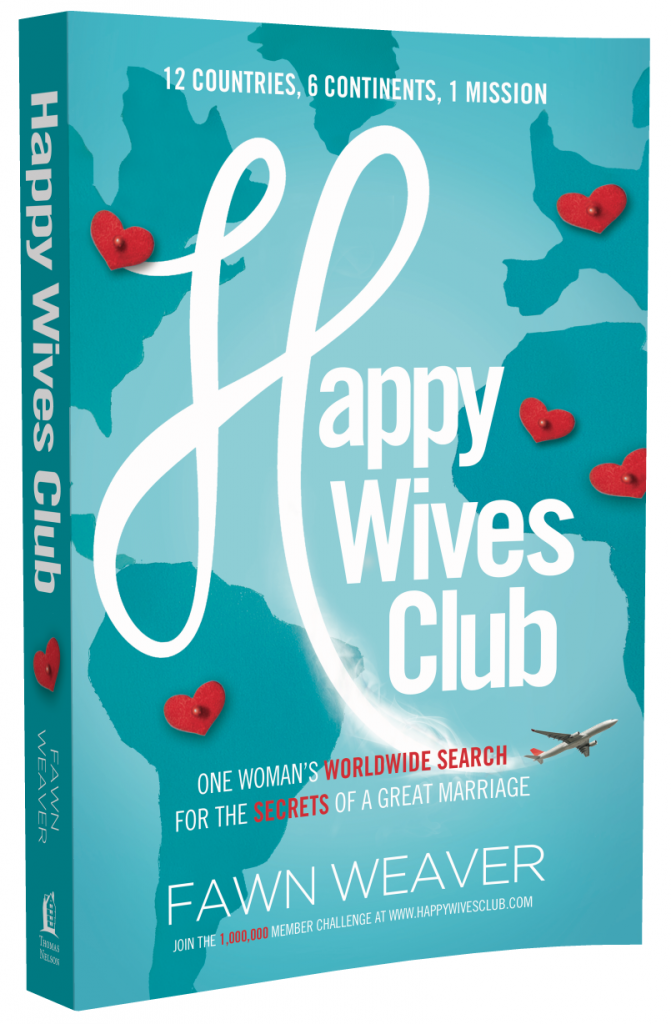 THE NEW YORK TIMES® BEST-SELLING BOOK: It's been described as, "Like Eat, Pray, Love but not down on marriage." Make sure to check out the Happy Wives Club book.  I had the great honor of traveling to 12 countries on 6 continents, interviewing couples happily married 25 years or more, with 1 mission only: to find out what makes marriages happy…and keeps them that way.  It's a marriage book like none other.  Guaranteed.
Fawn Weaver is the USA Today and New York Times bestselling author of
Happy Wives Club: One Woman's Worldwide Search for the Secrets of a Great Marriage
, adopting the same name as the Club she founded in 2010. The Happy Wives Club community has grown to include more than 1 million women in over 110 countries around the world. She's an investor in real estate, tech sector and lifestyle brands. When she's not writing or working, she's happily doting over her husband of twelve years, Keith (and sometimes manages to do all three simultaneously).
Latest posts by Fawn Weaver (see all)
Related Posts
4
By
Fawn WeaverFawn Weaver
November 12, 2017
Top 5 Regrets From the Dying: An Inspirational Article For Us All
43
By
Fawn WeaverFawn Weaver
October 19, 2017
How to Protect Your Marriage During Challenging Times
35
By
Fawn WeaverFawn Weaver
September 16, 2017
5 Unique Ways to Make Your Man Feel Special in 5 Minutes or Less
Recent Posts
By
Fawn Weaver
November 12, 2017
Top 5 Regrets From the Dying: An Inspirational Article For Us All
By
Fawn Weaver
October 19, 2017
How to Protect Your Marriage During Challenging Times
By
Fawn Weaver
September 16, 2017
5 Unique Ways to Make Your Man Feel Special in 5 Minutes or Less