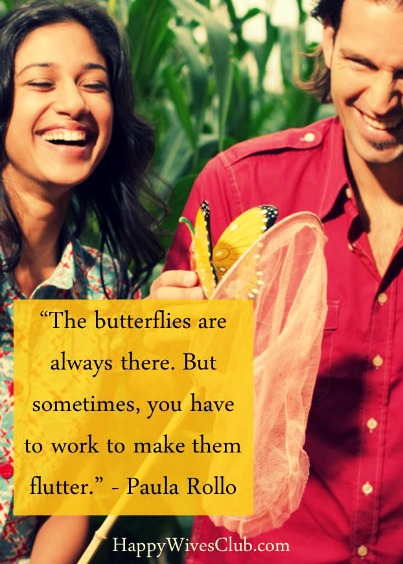 5 Quick Ways to Revive Those Butterflies
I love every time Paula writes a post for this site.  She loves her hubby, adores her babies and is working daily to create her happily ever after.
Her post reminded me of something I haven't done in several months…add to my Why I Love My Husband Never-Ending List.  Thanks, Paula!  I think I'll get started on that again.
Until tomorrow…make it a great day!

___________
Have you ever been told that, the butterflies that you felt in the the beginning stages of your relationship, will disappear when a marriage has fully matured?
That the butterflies will fly away, as they are replaced with things like deeper trust and maturity.
I've heard this many times before and although I disagree, I can understand where this thought process is coming from; relationships do evolve.
My heart doesn't always stop when my hand unintentionally brushes my husband's throughout the day.  When I hear his voice, my stomach doesn't always leap into my chest, the way it once did.
Things are different now, and being together can start to seem ordinary instead of exciting.
But I still believe in butterflies. 
The butterflies are always there. But sometimes, you have to work to make them flutter.
So, how do you get the butterflies going, even after years of marriage?  It's easier than you might think.  Here are 5 quick ways to revive those butterflies!
After a few years, it can take some effort to get the butterflies going again, but it is totally worth it! Maturity does not have to mean lack of flirtatious fun and butterflies! That sweet, giddy feeling can last a lifetime, if we are willing to put in the extra effort to keep having fun and falling in love every day! 
QUESTION: So what about you? What makes your butterflies flutter? 
##
JOIN THE 1,000,000 MEMBER CHALLENGE: If you haven't already done it, what are you waiting for? Join the club! It takes only a few seconds and, of course, is free.
MARRIAGE MONDAYS Link Up Party: Bloggers, join us here every third Monday of the month for our fabulous link-up party!  Join us August 19th for our next Marriage Mondays!
Paula Rollo: Paula & her hubby have been happily married for 4 years. They decided to tie the knot after knowing each other for just 35 days! They now have 2 rambunctious kiddos known as Little Man (2) and The Princess (7 mos). The family resides in Texas in a small but lively apartment. Paula and her hubby love to play board games, take long walks with the kids and they both LOVE the Texas heat! Paula also has a passion for writing. Her compositions have been featured many places around the web, including her own blog
Beauty Through Imperfection
where she writes about motherhood and strives to be an encourager through her writing.
Latest posts by Paula Rollo (see all)
Related Posts
4
By
Fawn WeaverFawn Weaver
November 12, 2017
Top 5 Regrets From the Dying: An Inspirational Article For Us All
43
By
Fawn WeaverFawn Weaver
October 19, 2017
How to Protect Your Marriage During Challenging Times
35
By
Fawn WeaverFawn Weaver
September 16, 2017
5 Unique Ways to Make Your Man Feel Special in 5 Minutes or Less
Recent Posts
By
Fawn Weaver
November 12, 2017
Top 5 Regrets From the Dying: An Inspirational Article For Us All
By
Fawn Weaver
October 19, 2017
How to Protect Your Marriage During Challenging Times
By
Fawn Weaver
September 16, 2017
5 Unique Ways to Make Your Man Feel Special in 5 Minutes or Less