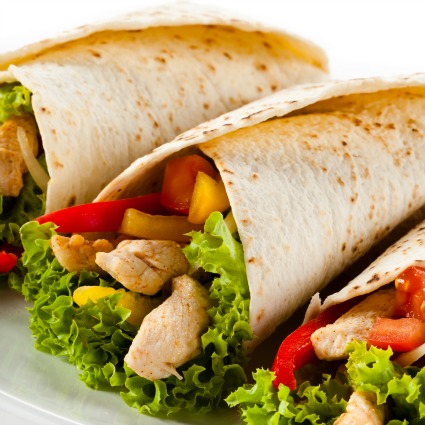 Aunt LaLa's Chicken Wraps
I love chicken! You may not know me but everyone around me certainly knows I love it! So I'm always looking for new ways to change it up and be creative! Since being healthy is a big focus in my home these days I wanted to come up with a recipe that not only was yummy but good for me too! I love to make a recipe of my own and I think these wraps are the ideal things for that! You can put in as much or little ingredients as you want while the flavors blend together giving you a tasty healthy meal! Plus, if you're not a big cooker (like me) you need something easy and simple to do! And ingredients you can pronounce, am I right? So go ahead and try this! It's a new staple in my house!
(Makes 4 wraps)
Ingredients:
3 boneless chicken breast frozen
lemon pepper salt (approx 1 tsp per chicken breast)
coarse black pepper (depending on your taste)
1 bottle of Kikkoman teriyaki base and glaze
1/2 bunch of fresh cilantro
2 tablespoons of lime juice
4 regular home style tortilla shells (the burrito or regular size)
Directions for Chicken
Pre-heat oven 425-450 for approximately 40 minutes. My chicken was frozen so if thawed cooking time will be less.
Before cooking poke holes in chicken then season the chicken with lemon pepper and black pepper
After chicken is cooked drizzle teriyaki sauce on your chicken
Turn off oven and place chicken back in oven
Make your cilantro topping while chicken is warming in the oven
Cilantro-Lime Topping
Take your ½ bunch of cilantro and chop it finely

Add 2 tablespoons of lime juice 

Mix it in bowl
Warm tortilla shells according to the bag/container
Cut chicken into strips
Now you can put your wraps together with as much cilantro as you like or add more teriyaki. Remember the great thing about this recipe is that you can add or take away different things, make it your own!
Staying Hopeful,
Lauren @ Aunt LaLa
Employment Facilitator, Student, and blogger
Passionate about her marriage! Loves to encourage wives in their marriages. Juggles being a student, a working woman, being a wife, and Aunt LaLa to her niece and nephews. Loves blogging about life, marriage, infertility, and her faith.
Latest posts by Aunt LaLa (see all)
Related Posts
0
By
Annett DavisAnnett Davis
September 27, 2015
Creamy Garlic Salad Dressing
0
By
Aunt LaLaAunt LaLa
August 18, 2015
Easy Pulled Pork Sandwich
2
By
Aunt LaLaAunt LaLa
August 15, 2015
Aunt Vivian's Chicken in White Wine Sauce
Recent Posts
By
Fawn Weaver
November 12, 2017
Top 5 Regrets From the Dying: An Inspirational Article For Us All
By
Fawn Weaver
October 19, 2017
How to Protect Your Marriage During Challenging Times
By
Fawn Weaver
September 16, 2017
5 Unique Ways to Make Your Man Feel Special in 5 Minutes or Less