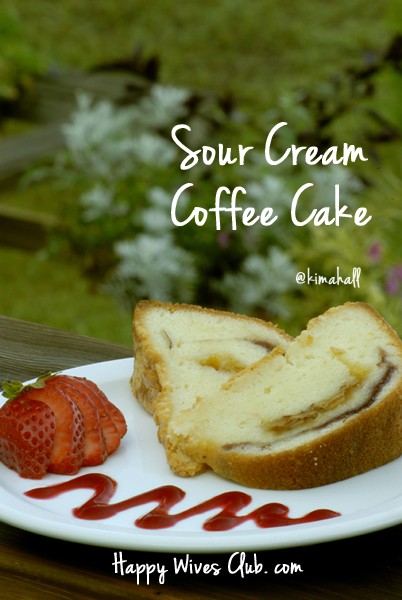 Sour Cream Coffee Cake
In a previous life, I was an innkeeper.
My parents, my husband and I ran a family-friendly B&B that routinely hosted 30+ individuals per weekend.
We were regularly trying new recipes for flavor and their ability to be made ahead.
When we found dishes that had a terrific home-style taste and that could be prepared at least a day or more before, we'd put them into the breakfast rotation.
Not surprisingly, this soft and moist-crumbed cake was a regular and popular feature on the buffet.
Even though I have had this recipe for over twenty-five years and feel like I've made thousands of them, it still is the one I turn to when I have company, or when I want to bring something to a friend, neighbor, or event.
The recipe makes one bundt cake, but I always double it so I can have one to serve immediately and one to put in the freezer for later.
Sour Cream Coffee Cake 
Yields 1 bundt coffee cake.
Recipe can be doubled to make two. (I highly recommend doing this!)
Ingredients:
2 c. flour (10 oz)
1 tsp baking powder
1 tsp baking soda
1/4 tsp salt
1/4 lb. butter (1 stick), room temperature
1 c. sugar (7 oz)
1 tsp vanilla extract
2 large eggs
1 c. light or regular sour cream (If doubling, you can use a 16 oz container)
Topping
1/4 c. sugar
1 tsp cinnamon
1/2 c. walnuts (optional)
Directions:
Measure flour, baking powder, baking soda, and salt into bowl. Whisk to combine; set aside.
Mix sugar and cinnamon for topping; set aside.
Beat butter, sugar, vanilla, and eggs with electric mixer until well mixed. Add flour mixture and sour cream to butter/sugar mix. Beat slowly until blended. Stop beaters, and gently stir batter up from bottom of bowl to be sure all the dry ingredients are blended in equally. Batter will be quite thick.
Spread half of batter in well-greased bundt pan. If in doubt, go heavier on the bottom half. Sprinkle half of sugar cinnamon topping on top of batter, then sprinkle half of nuts over sugar. Drop spoonfuls of remaining batter into bundt pan, spread out evenly. Top with remaining sugar cinnamon topping and nuts. Press nuts lightly into top of batter.
Bake at 350 degrees for 30-40 minutes, until a cake tester comes out clean.  Cool for about 30 minutes, until pans are cool enough to handle. Run a plastic knife around edges of bundt pan, flip onto plate and then back over onto cooling rack.
Let sit until completely cool. Cut and serve, or wrap whole and put in the freezer.
I cut the cakes into 20 pieces, which gives a nice size slice without being overwhelmingly large.
This cake keeps exceedingly well in the freezer.
May you find happiness wherever you are! 
            ~Kim, your personal Sherpa of Joy at Too Darn Happy
Kim Hall created Too Darn Happy with the mission of helping you find happiness in all circumstances through the encouragement of faith, the practice of gratitude, and the discovery of joy, all spun together with fresh perspectives, practical advice, and a personal touch. She recently authored her first ebook, Practicing Gratitude and Discovering Joy-30 Days to a Happier You.
Related Posts
3
By
Annett DavisAnnett Davis
June 17, 2014
Cherry Blueberry Oat Bars
1
By
Annett DavisAnnett Davis
March 6, 2014
Healthy 3-Ingredient Ice Cream
1
By
TiffanyTiffany
September 22, 2013
Healthy and Frugal Spinach Salad
Recent Posts
By
Fawn Weaver
November 12, 2017
Top 5 Regrets From the Dying: An Inspirational Article For Us All
By
Fawn Weaver
October 19, 2017
How to Protect Your Marriage During Challenging Times
By
Fawn Weaver
September 16, 2017
5 Unique Ways to Make Your Man Feel Special in 5 Minutes or Less